Jun 24, 2020
The Why's And What's of Tulle Bridal Wedding Dresses That You Must Know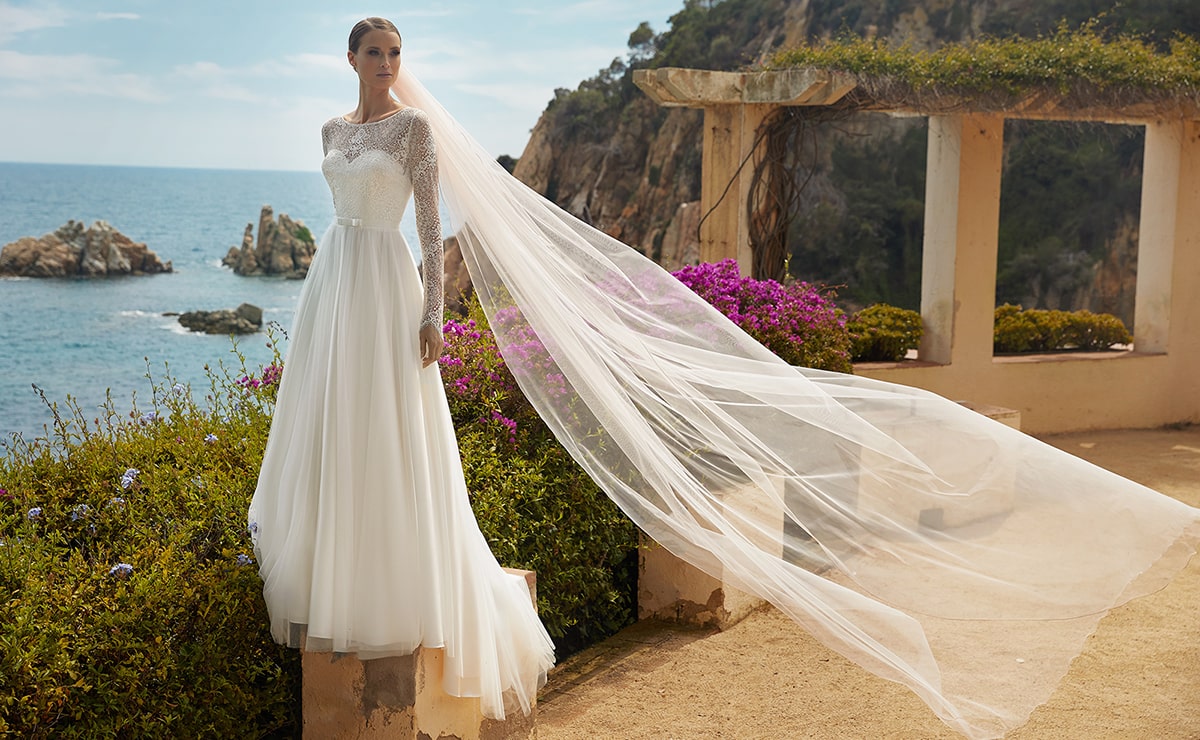 When asked about what kind of wedding dresses they would prefer for their big day, most would-be brides say that they want their dress to be voluminous, airy and almost dream-like, especially if they are getting married in spring or summer. Believe it or not, some ladies even said they wanted their dress to be cotton-candy like. While that is all cute and charming, from a practical point of view, there are very few materials or fabrics that can actually help designers to achieve that almost fairytale-like fluffiness. Remember, it is not only the cloud-like volume that is the criterion; the dress has to be weightless as well so as not to feel constricting and resisting free movement.
Thankfully, tulle comes to the rescue. Whether it is the lightweightedness, fluffiness or that fairytale-like charm that you are looking for in your wedding dress, tulle can help you get all that and more. However, due to the fine quality of the material, tulle bridal wedding dresses are also quite delicate and should be handled with utmost care.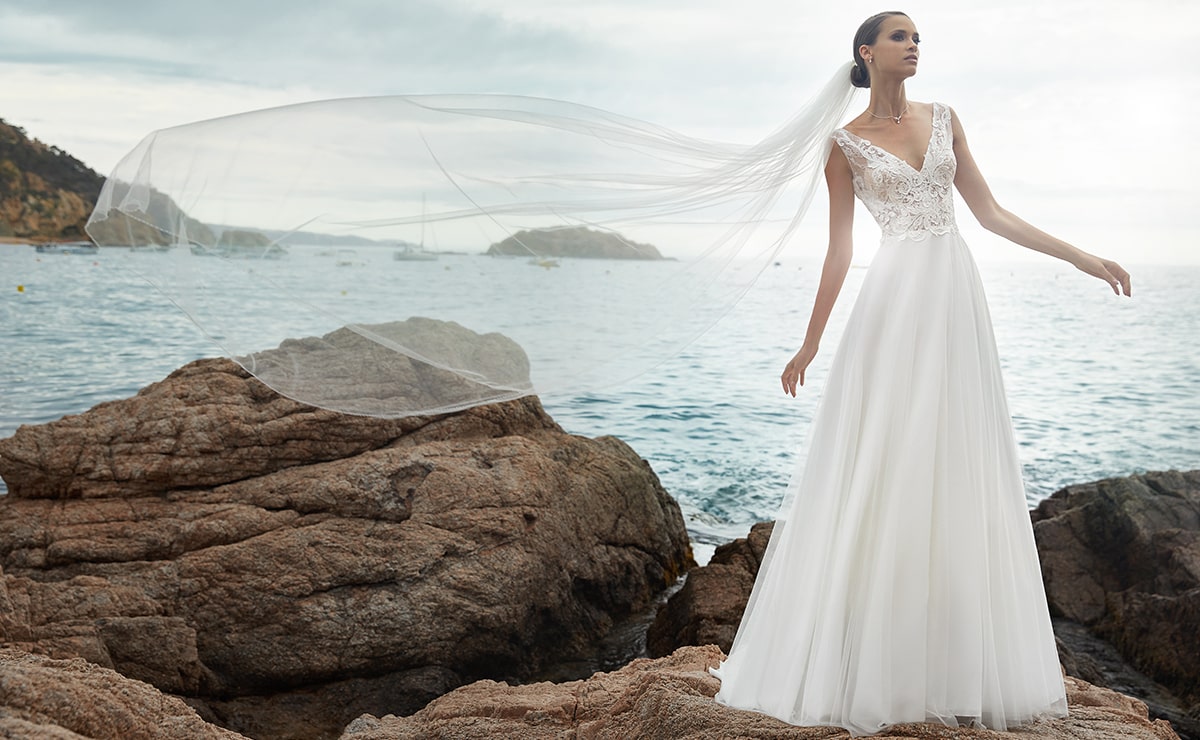 So, what exactly is tulle?
Tulle gets its name from the French town of Tulle, formerly known for its lace and fabric production. As a fabric, tulle is extremely lightweight and can be soft or stiff, depending on from which material it is woven. While previously it was mostly woven from silk, nowadays polyester is the most common fiber used. Tulle can also be fashioned from rayon or nylon.
In the bridal couture industry, any material/fabric that offers versatility is highly valued. Case in point - lace! Same is the case with tulle. It enables designers to create elaborate, often whimsical but always beautiful, designs for veils, ball gowns, mermaid dresses, A-line dresses, skirts and more. In fact, besides tulle bridal wedding dresses, you may easily find the material used for making underskirts and petticoats, accenting highlights on skirts and gowns, making illusion panels on wedding dresses and also floral designs for a 3D effect on otherwise plain designs. Yes, versatile - as we said earlier!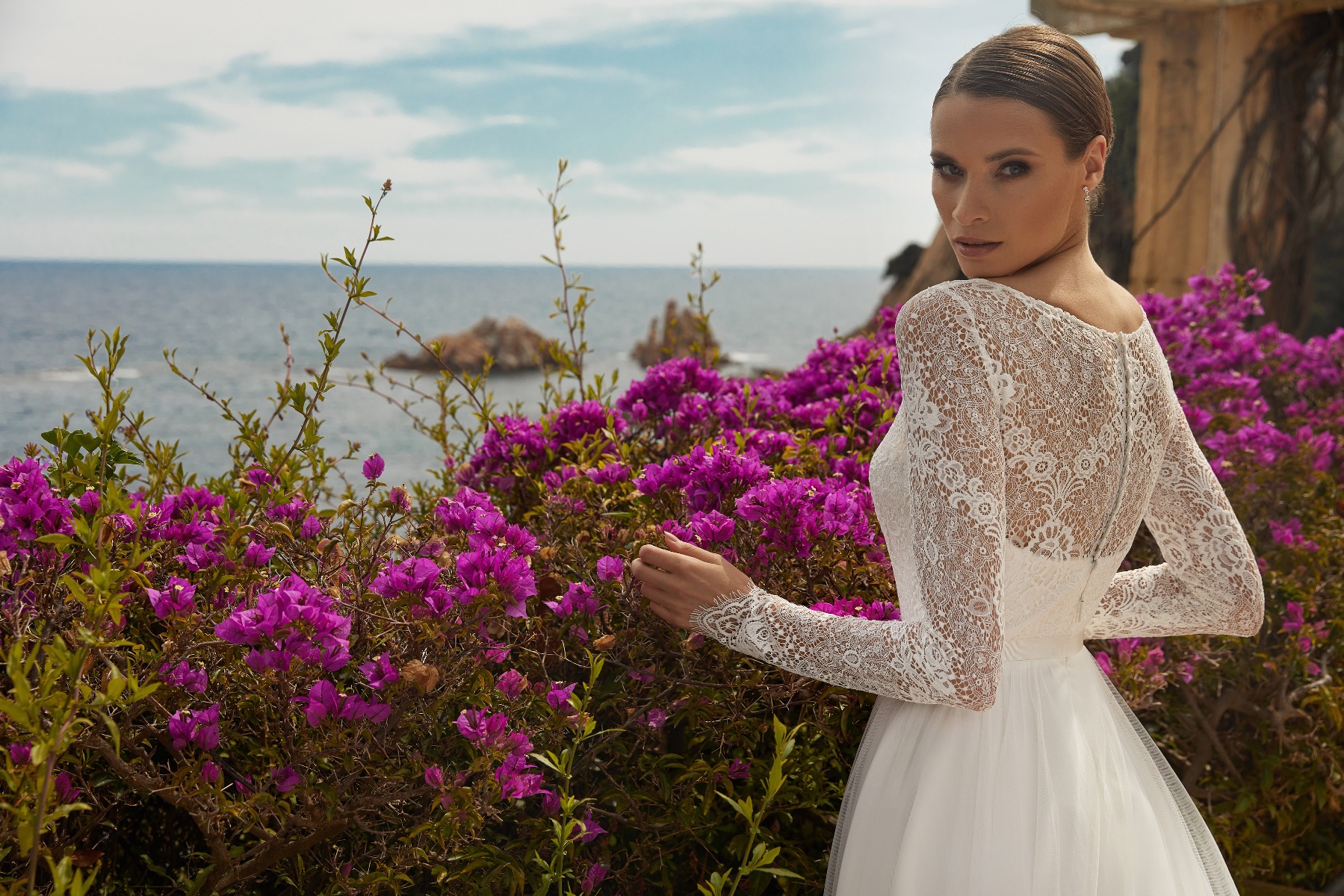 Why should you consider tulle bridal wedding dresses?
If it is your dream to wear a big, larger than life silhouette on your wedding day, tulle would be the ideal choice of fabric. Not only is it amazing for creating the illusion of volume, it is also extremely lightweight meaning you won't be needed to pull along any extra weight of the dress as you go around the venue greeting guests or take to the dance floor.
If it is that fantasy princess ball gown that you are after, there can be no better choice than tulle. Designers use tulle to give a bridal dress an incomparable frothy, airy look that ultimately makes the ensemble look dreamy, almost ethereal. Yes, you can use tons of other materials like satin or chiffon to achieve that voluminous look, but nothing looks as magical without looking bulky as tulle bridal wedding dresses.
Due to its versatility, tulle works well with most bridal dress silhouettes. It doesn't just look good on ball- gown like dresses, but also suits A-line, bridal separates, mermaid or trumpet shapes. While it can work marvelously with more form-fitting dresses, it is typically used as an overlay, for adding texture and detail to the dress.
In case, you have not thought of trying tulle bridal wedding dresses before and are now curious about the available styles, you may want to take a look at some gentle silhouettes with sophisticated details.
For the ultimate ball gown, you can consider Daniela or Christina. Featuring beautiful lace bodice with sweetheart neckline underneath, along with full sleeves, a satin belt in case of the former, and a full soft tulle skirt, these gowns are simple elegance redefined. Another modest yet wonderfully mesmerizing number is Prudence. Its sleeves are made from a modern polka dot material with a traditional lace cap at the wrists. The bodice includes a lovely V neckline, bold floral lace layers and is closed with discrete back zip fastening. The full skirt fashioned from soft tulle flows beautifully to the hemline and beyond to form a little bit of train.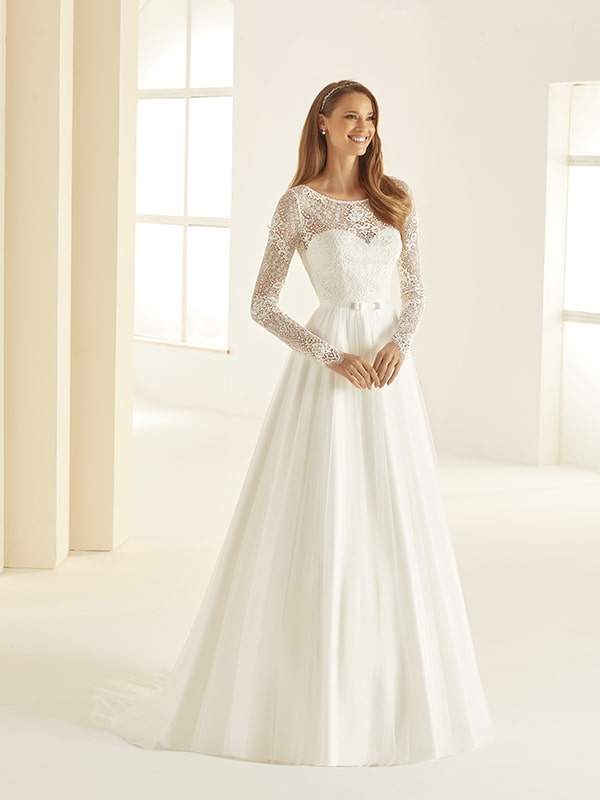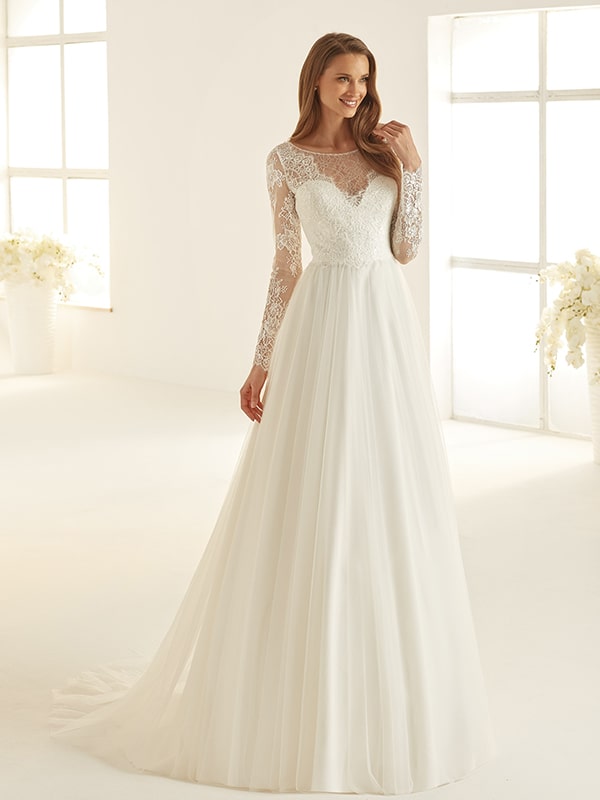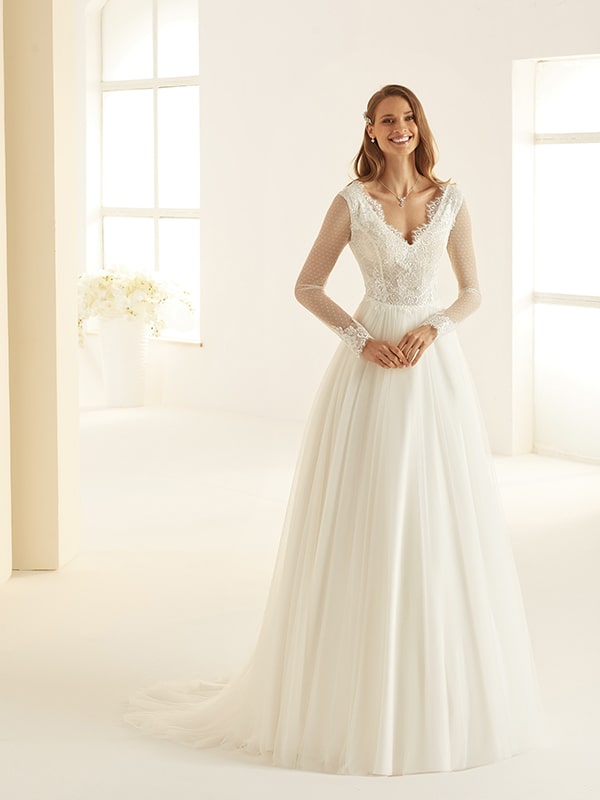 Casual princess brides, Preciosa and Pandora might be more your style! The plunging V back and neckline of the former with the intricate lacework on the bodice creates a romantic charm. In case of the latter, the high quality lace bodice, with illusion back and princess neckline, makes a smooth sultry statement. This soft A-line style has a little bit of everything, while staying simple to let you do the glowing.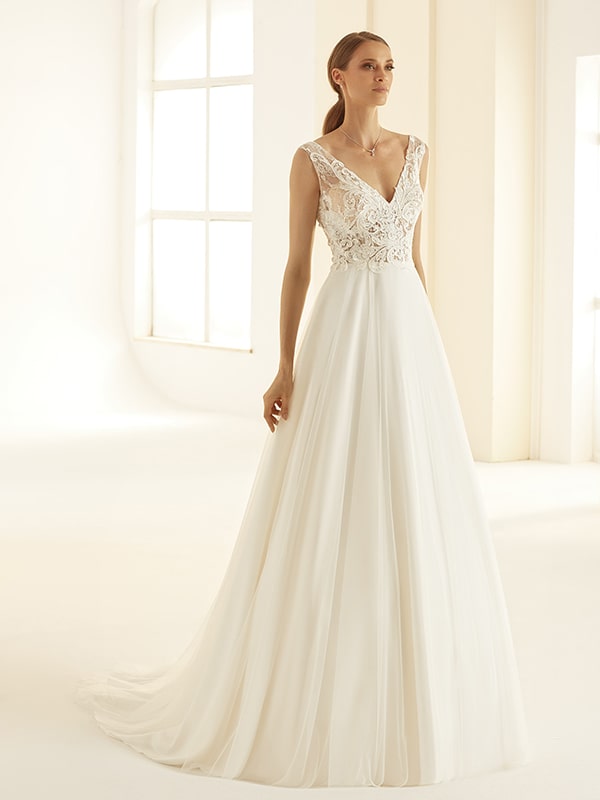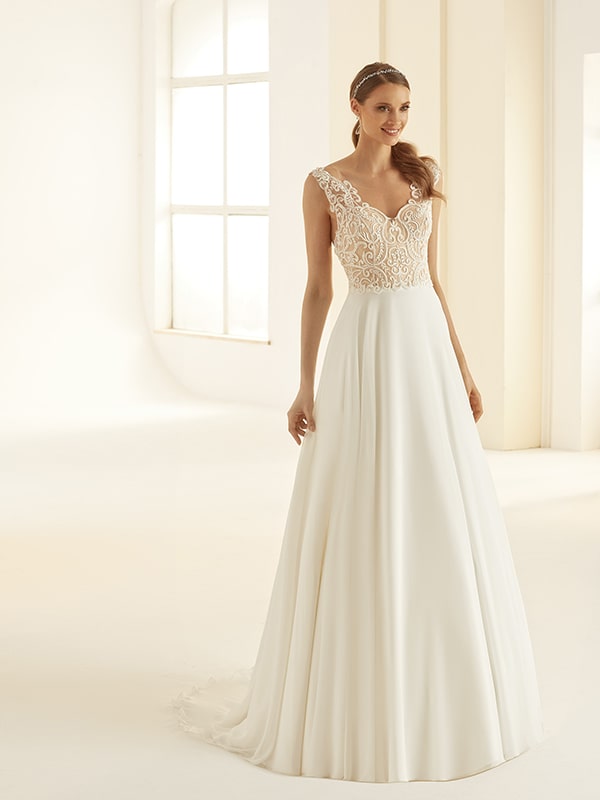 If you are looking for a more subtle, minimalistic gown, you may want to be wowed by Amanda. A satin with a glitter tulle overskirt, deep V back and neckline make this dress instantly striking. The soft A-line skirt flows on to form a train at the back and creates lush movement throughout the gown for a smooth float down the aisle.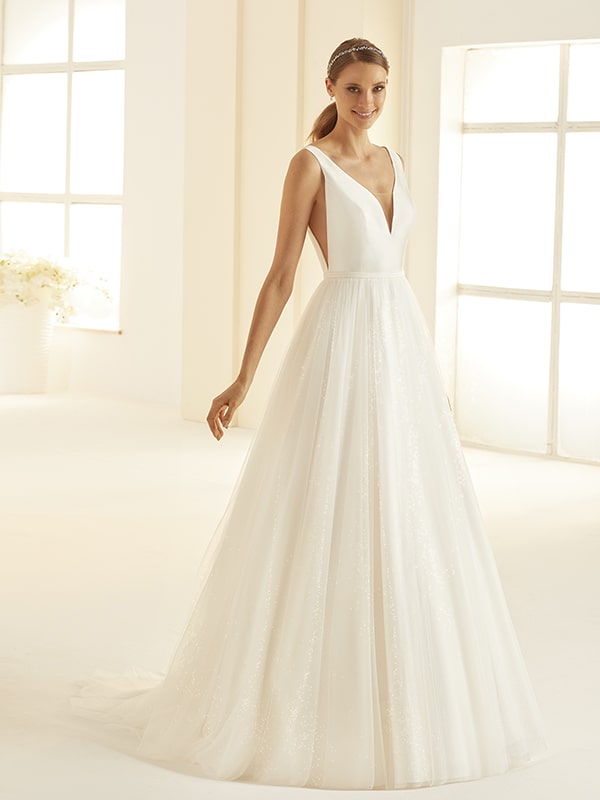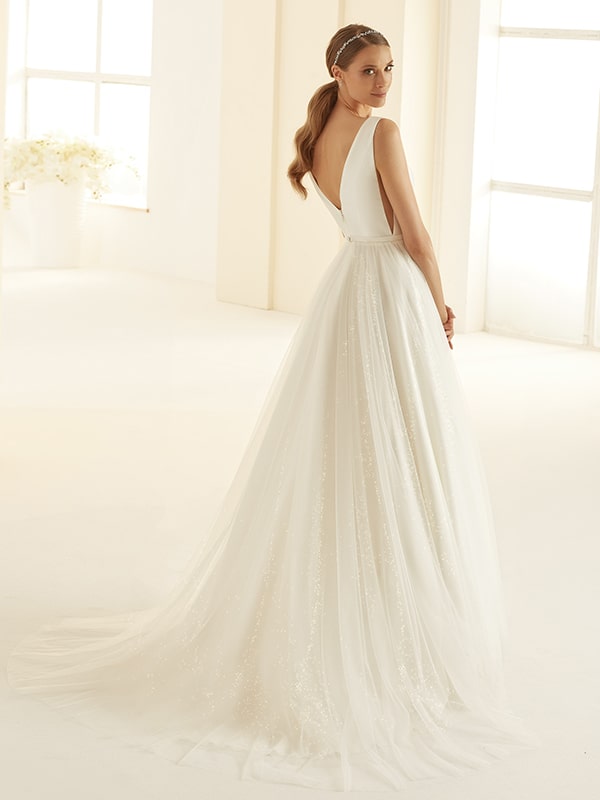 In case you are not looking for tulle bridal wedding dresses but a tulle skirt to be paired with a stunning corset or bolero for maybe a rehearsal dinner or reception party, you will find Corsica and Butterfly absolutely delightful. While Corsica is a full glitter tulle skirt that adds that touch of glamour to any outfit, Butterfly is spell-binding in tulle, glitter and sequins with a keyhole back. Both skirts have a long delicate train and a satin belt.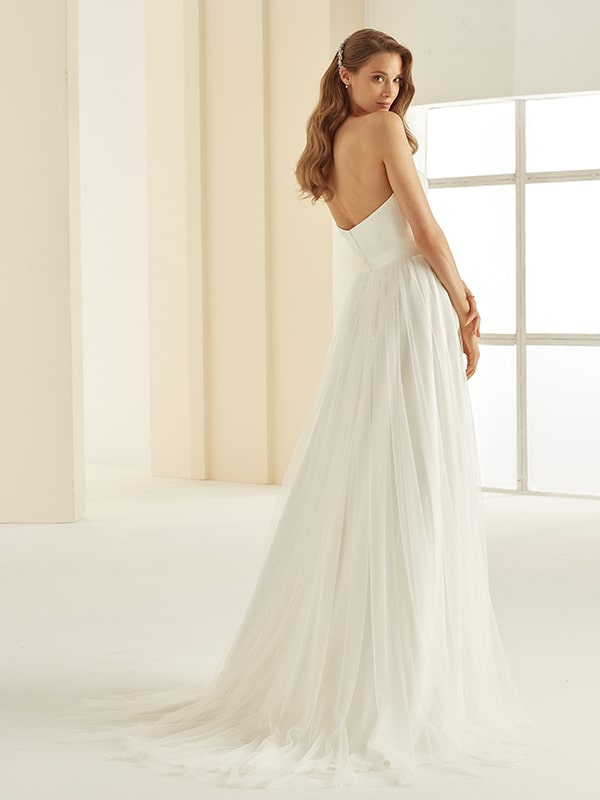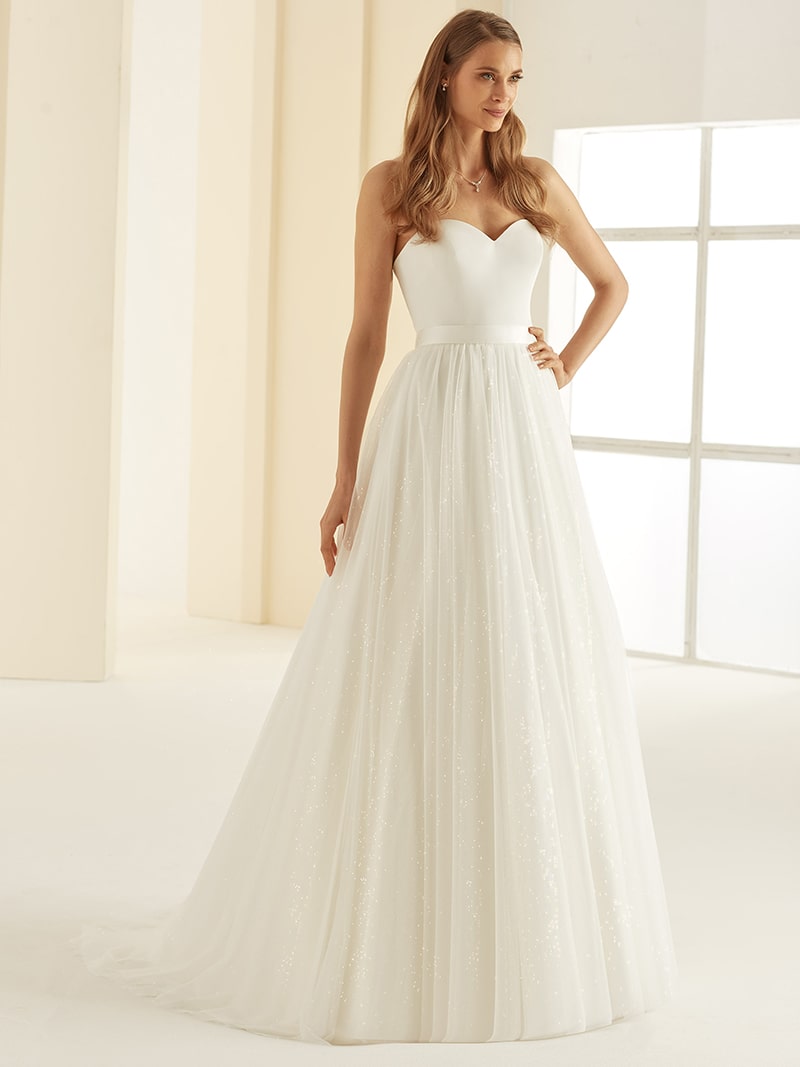 These silhouettes are carefully designed to make you shine as the diva that you are, on your big day, without you having to feel overwhelmed by the ensemble. Tulle bridal wedding dresses are preferred by most brides because these give them the ultimate fairytale-like charm without making them feel like they are drowning in tons of fabric. Comfortable to wear, easy to manage and gorgeous to look at - tulle bridal wedding dresses really do tick all the right boxes, don't they?