May 29, 2020
Fabrics and Styles: A Quick Guide for the Summer Bride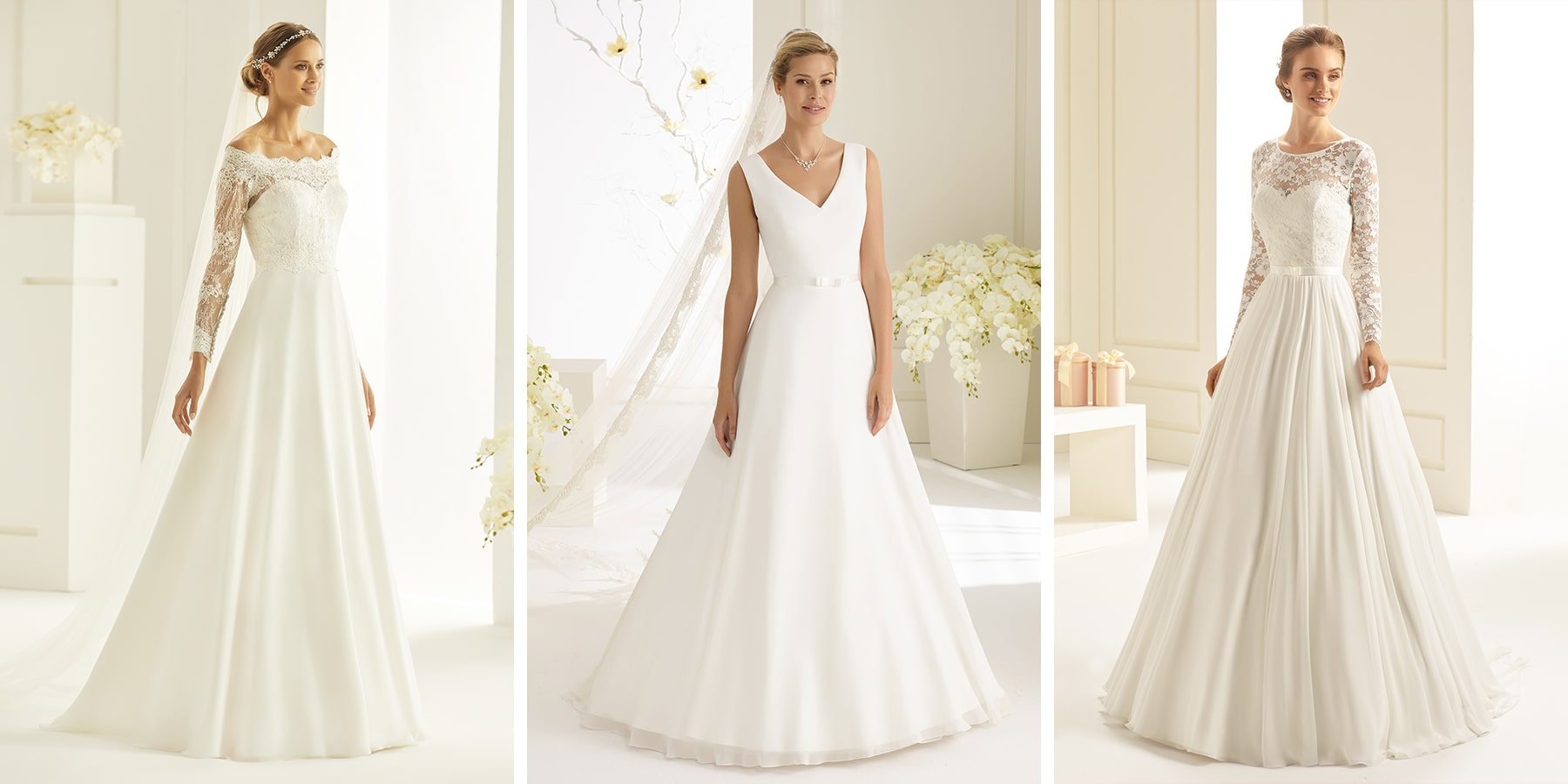 You have been on your toes about your wedding planning for months. You have pinned all your favourite styles on your Pinterest board. You have shortlisted bridal keywords in hope of guiding your stylist accurately. You have selected the flowers, ordered the cake and even booked appointments at the salon. Now it is time to talk about fabrics and dresses.
As you are having a summer wedding, especially in these unprecedented times, a good amount of thought must be put into the fabric of your wedding dress. The fabric you choose can very likely have an environmental effect, on a more immediate note, it can practically decide how you feel, look and carry yourself on one of the most important days of your life. Believe us when we say that if it is scratchy or making you sweat, it will show in your demeanour. If it is too heavy and keeps you from dancing freely, you are not going to be in a very good mood by the end of the day.
And let's not forget about the styles! You must keep some time in hand for determining which cut and silhouette would look the most flattering on you. As a summer bride, you must choose a dress that has a flowy, loose yet elegant quality to it and accentuates your most beautiful aspects even further.
Feeling overwhelmed? Please don't as we are here to help you make sense of it all.
Let's talk about fabrics first
With the wedding set in summer months, when the air has caught quite a bit of warmth in it, you must look for fabrics that are light and airy, sheer even, so as to have a dress that is breathable in. Choosing a more structured dress, crafted out of heavier fabrics like silk, pique, velvet or brocade can limit the comfort factor on an exceptionally warm day. Fabrics more suited for spring or summer months include organza, tulle, lace, rayon, charmeuse and crepe - all lightweight, all comfortable.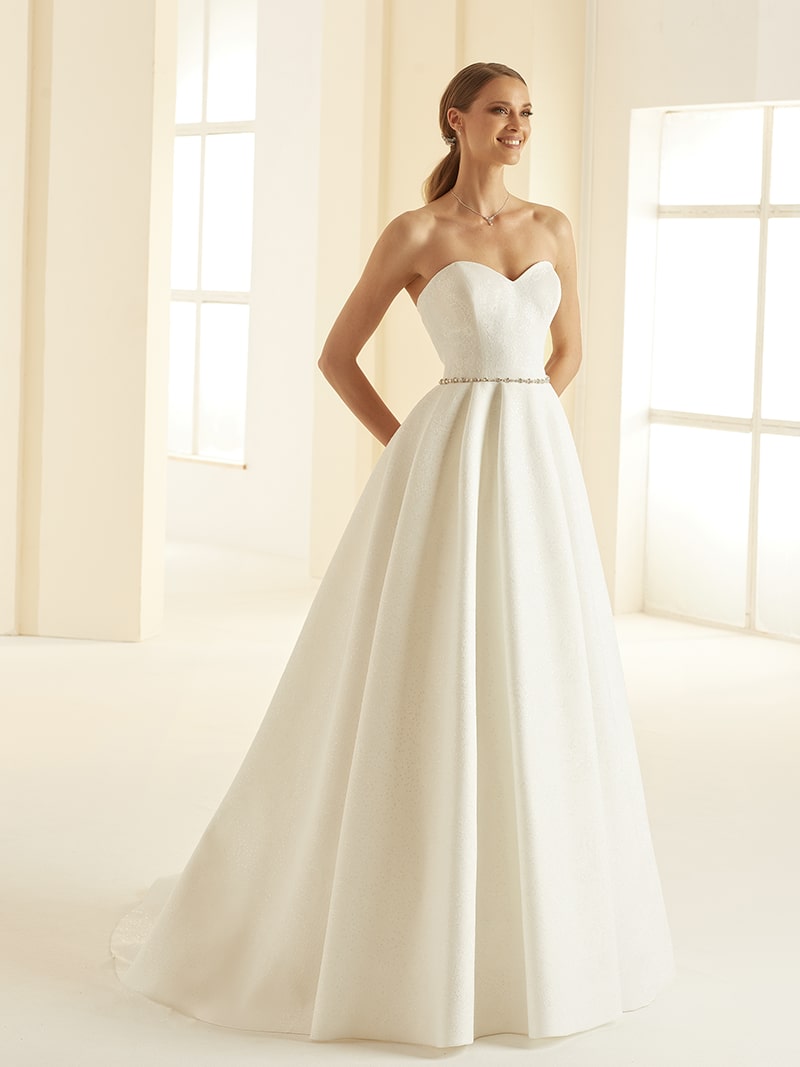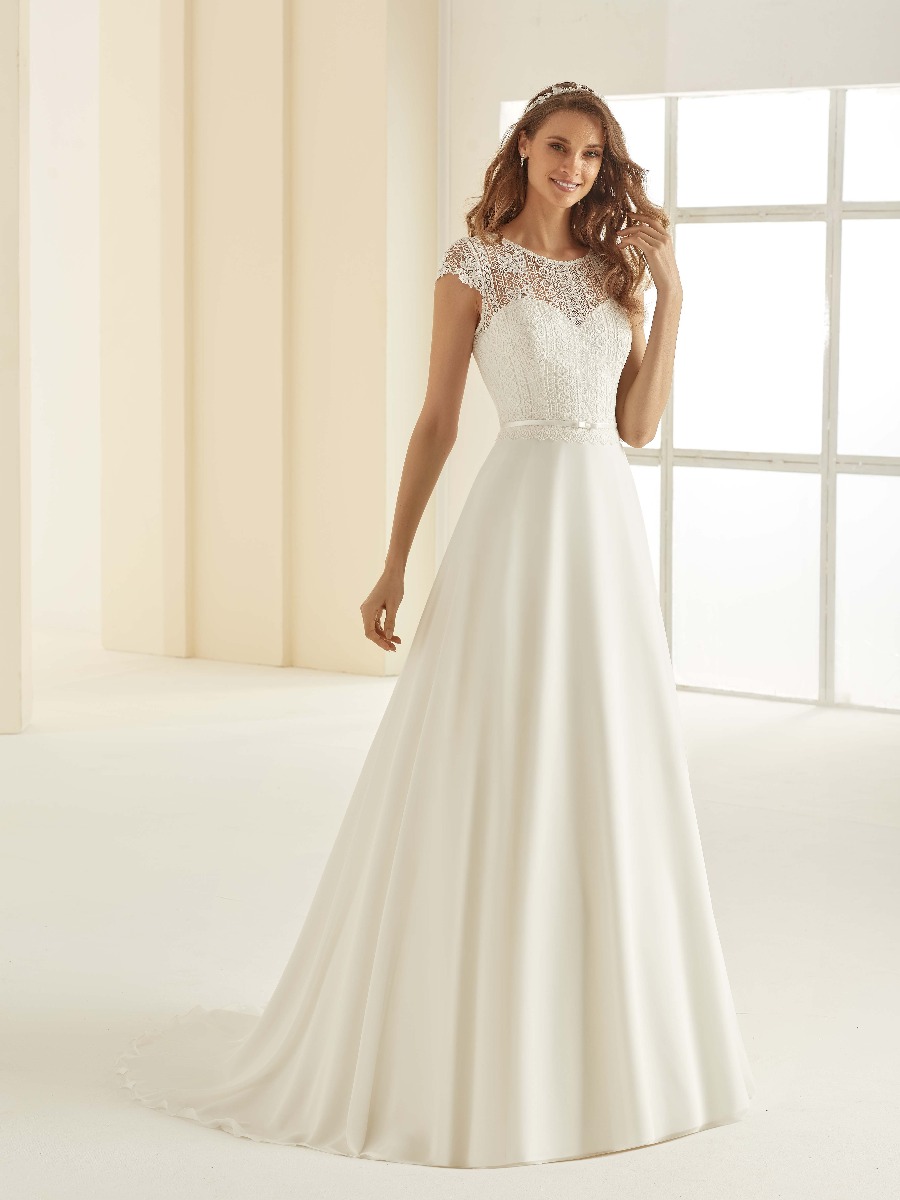 Organza: Organza is probably one of the most common materials used to craft stunning bridal dresses. It is actually one kind of weave pattern that the fibers of other materials are usually woven into. In other terms, this means that with the right design, this fabric can give you that fluffy, big skirt look without adding on any extra weight. Typically, organza is used to create somewhat of a whimsical look to a gown's skirt to look bigger.
Tulle: Speaking of whimsical designs - tulle bridal dresses are what you should look at if your dream dress has a cloudlike skirt billowing around you. An extremely lightweight, sheer material, tulle is available in multiple varieties. Depending on what material it is made from tulle can either be gorgeous and soft (silk) or paper-like and crunchy (nylon). One thing that is for sure is that tulle can add a great amount of volume to the dress sans the weight. Hence it is widely used by bridal designers to make skirts, including mermaid silhouettes, detachable over-skirts, and breezy A-line designs.
Lace: Lace is a whole different category when it comes to bridal fashion. Originally crafted out linen, silk, silver and even gold, lace has become much more affordable now with the use of cotton, viscose and premium fibers. Undeniably, the shift in material has made for better wearability. From the design aspect, there are endless styles and patterns lace is available in, with this year's bridal runways seeing an overwhelming usage of large floral embroidered patterns.
Rayon: Rayon is another summery material, that is very close to silk in looks but with more elasticity. It can be a more preferable choice for silhouettes that fall close to the body and do not puff up. While it is more affordable when compared to other fabrics, it admittedly wrinkles quickly - a concern that many brides have in regards to photographs.
Charmeuse: Charmeuse is lovely, to say the least. It is a light, rich fabric with a nice drape and a glossy sheen. It's soft glowy undertone makes it perfect for spring, summer and even fall weddings. It is understated elegance through and through, making it an incredibly romantic choice for small, intimate weddings.
Crepe: Made of lightweight silk or rayon, crepe has a naturally crinkled surface and is best suited for gowns that have a simpler, understated, minimalist look. The best part about crepe is that because of its naturally crinkled look, people don't notice instantly if the dress happens to get wrinkled during the course of the day.
Let's move on to styles
Now that you have taken a closer look at the most preferable options of fabric for your summer wedding, let's take a look at the styles that won't just make you look like the diva that you are but also ensure that you aren't feeling suffocated in the heat. You already know that structured, tight-fitting silhouettes might not be a good idea, but what about back-lines and hemlines?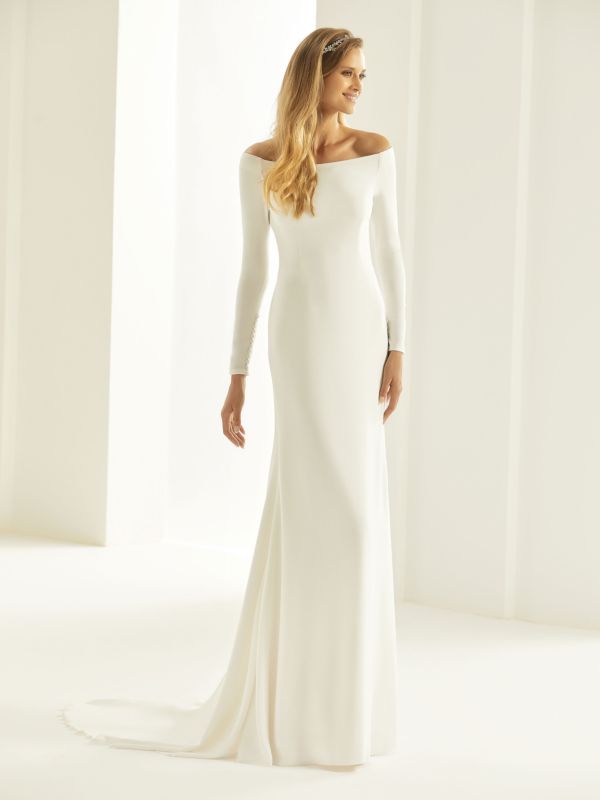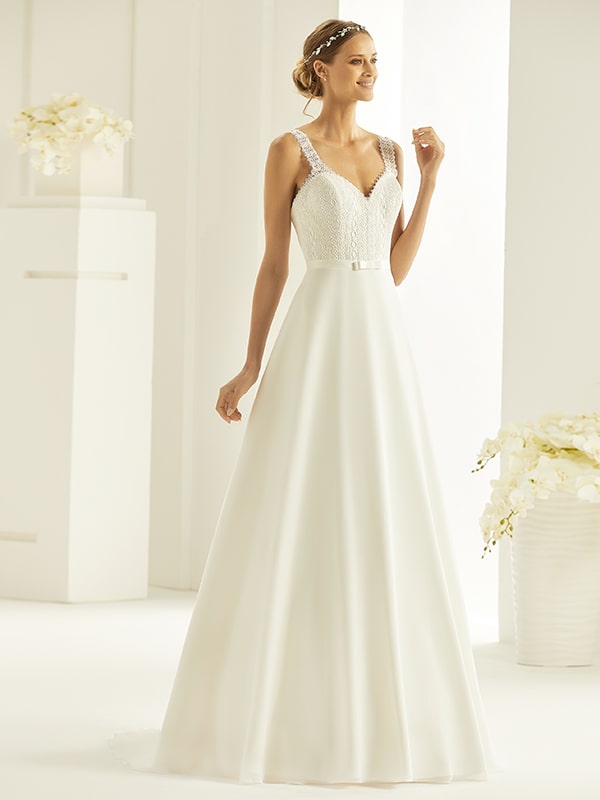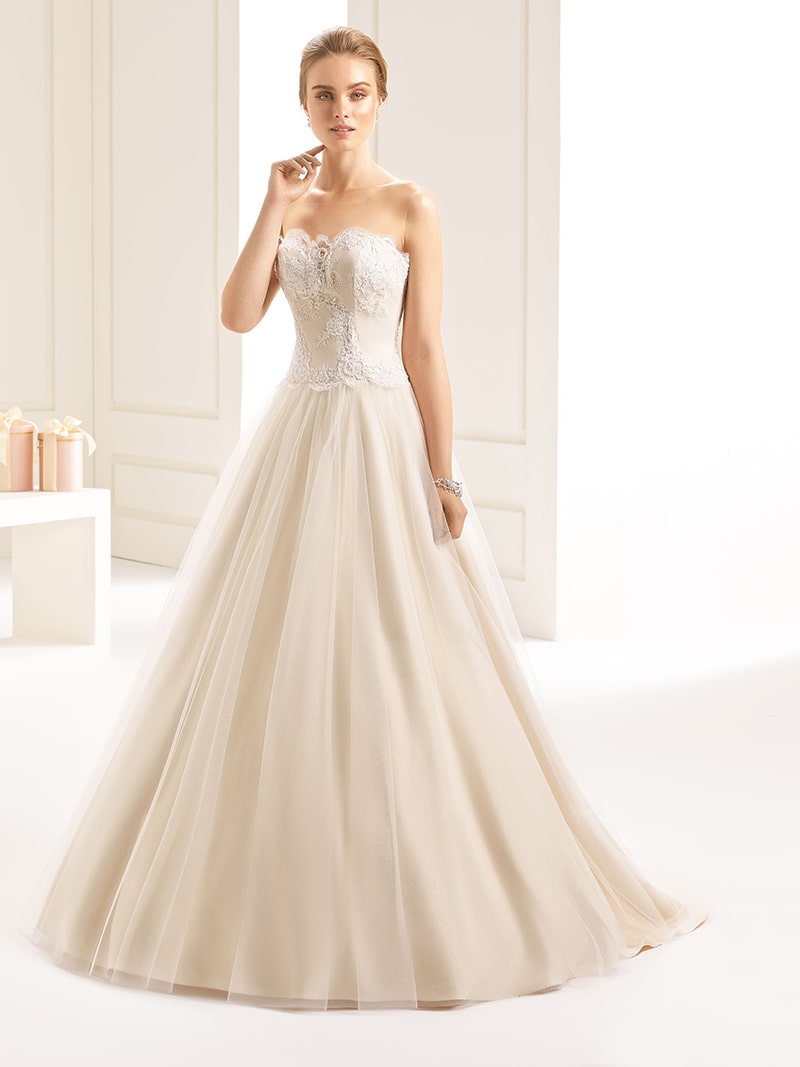 Off-the-shoulder: Nothing says summer better than a gorgeous off-shoulder number! Keep it light in tulle or organza for a lovely garden wedding or shine in lace for a more formal event. Just don't forget to coat those shoulders in sunscreen.
Tea-length or skater: Get the very best of both vintage and playful styles with a tea-length or a skater dress. Besides being plenty comfortable for the long summer days, these dresses give you the perfect opportunity to show off those stunning bridal heels.
Plunging backs: Maintain the requisite air of elegance and modesty while making sure you don't pass out from the day's heat as you walk down the aisle with plunging and portrait backs. They are not just a practical choice, but are demure yet sassy, perfect for making a fashion statement.
Chic Boleros: No matter how hot the days are, the evenings can still be chilly. Why not add a cute lace bolero in the mix for added warmth? For all those summer brides going for a sleeveless or off-shoulder look, this might be a pretty and easy coverup for the evening celebrations.
With the question of fabric and silhouette of your dress sorted, be ready to keep it chic or casually cool. Keep your comfort at the foremost of your considerations because remember, if you are comfortable in your dress not only will you have one less thing to fuss about, but will also have a lot of energy and be a in a good mood to enjoy what will most likely be one of the most special and longest days of your life.