Dec 2, 2020
Want To Walk On Cloud Nine Or Channel The Inner Princess on Your Big Day? These Tulle Bridal Ball Gowns Are Made To Get The Look!
Whether you are dreaming, planning or already shopping, it's best to keep those trends alerts on and still keep an eye on those classic silhouettes. What doesn't get any better though is when the classic silhouettes come back with a bang and rule the runway with new twists like a timeless beauty! The classic ball gown is doing just that this season and sits high up on the trend list of bridal fashion. And if you are one who loves the classic bridal look with a twist of modernity then these new alerts should certainly be on your radar!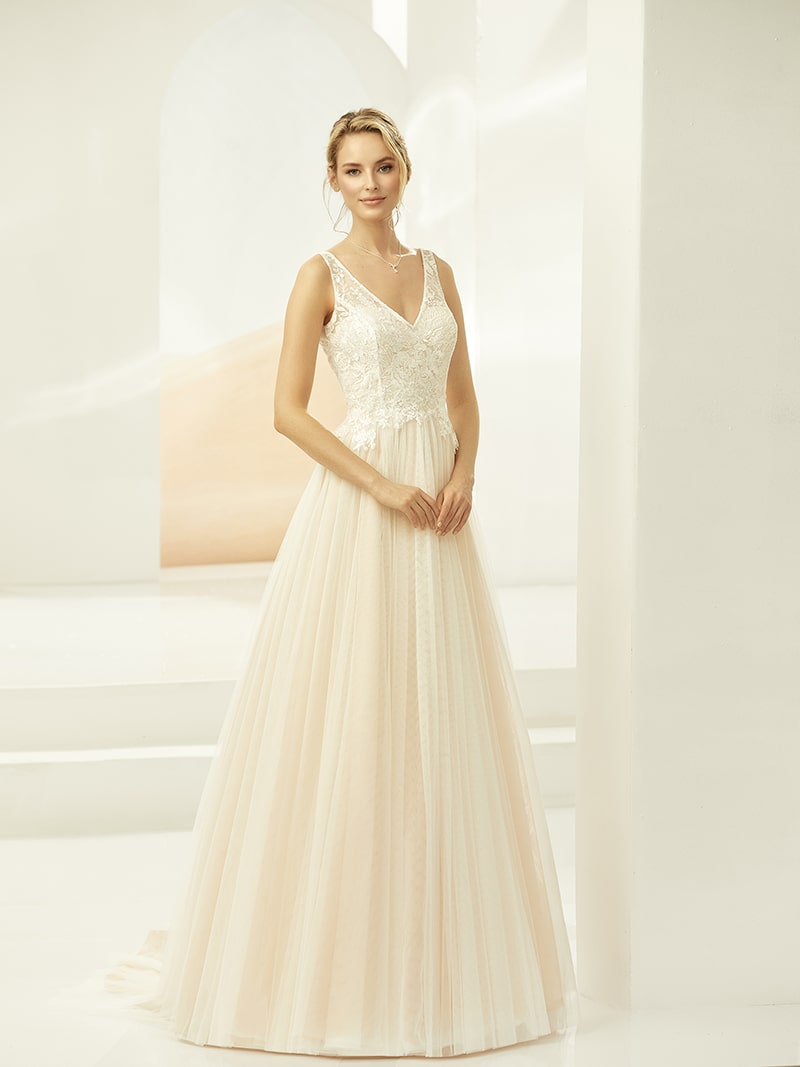 Blush Toned Beauty
Worried that your fairytale-inspired dreams of meeting your beloved like a princess wearing a stunning ball gown or those years of scrapbooking dress ideas will seem outdated in today's time? Give it a rest because the classic ball gown is still ruling the roost when it comes to bridal fashion. Squeeze in a twist of modern touch and you will have a look that is doing the rounds as a trend alert. Giving the over-used white or ivory a miss could be a very good first step!
Blush tones are the freshest and one of the most desired looks that brides are going for and designers are filling their look books with. Sweet, soft, sensuous and charismatic, a blush-toned gown can do a complete overhaul of your bridal and can up it several notches higher! Bianco Evento's Harper has just the look that you may be looking for. If the flowing skirt with the floaty tulle overskirt should leave you seeing hearts in your eyes, then the gorgeous illusion lace bodice will leave you spellbound!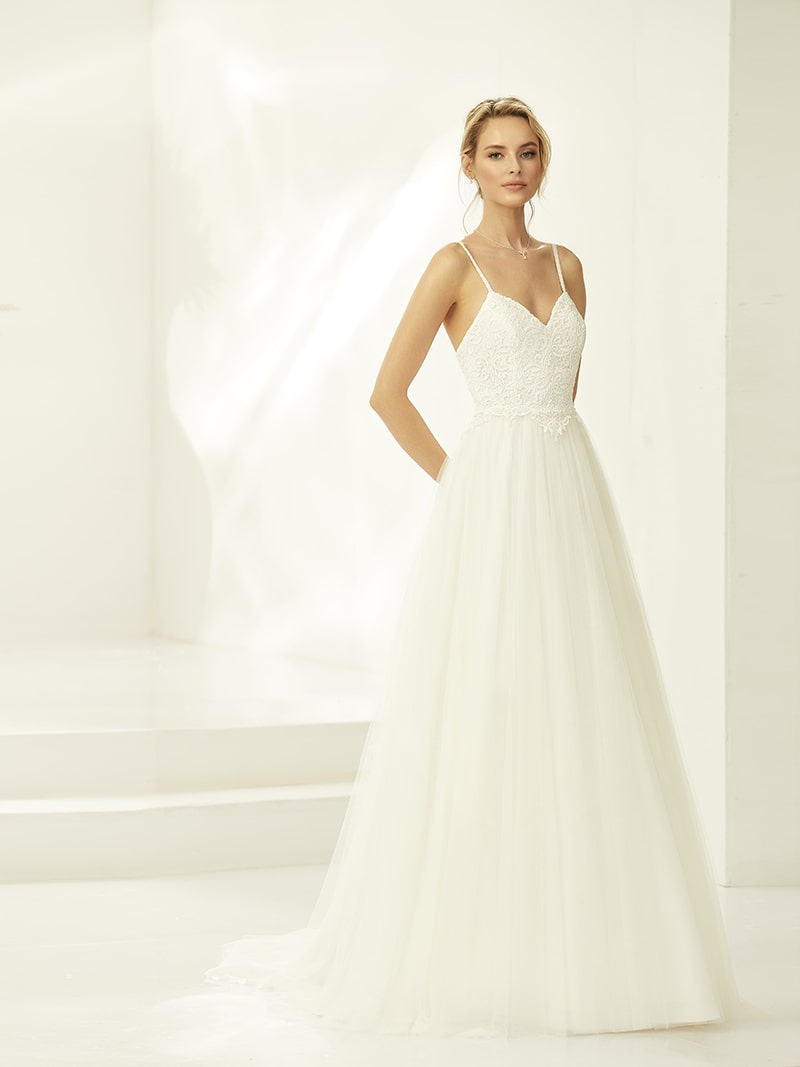 Graced with Lace
Nothing celebrates romance like the classic and timeless pair of lace and tulle! And, when the airy, ethereal looks of tulle and the elegant romance of lace have been making up a major chunk of your wedding dreams, then indulging on a lovely lace dress with swatches of tulle making up the volumes of its skirt can be the best kind of indulgence! For those with an eye for laces and their details, then Bianco Evento's Esperanza will win your heart over like none other.
Adorned with a remarkably stunning guipure lace bodice that tops a flowing and swishy tulle skirt, Esperanza is a spectacular dress that can floor the gathered in one look. The dress in its entirety gives off an ultra-feminine, graceful and elegant vibe that is perfect to complement your taste and personality!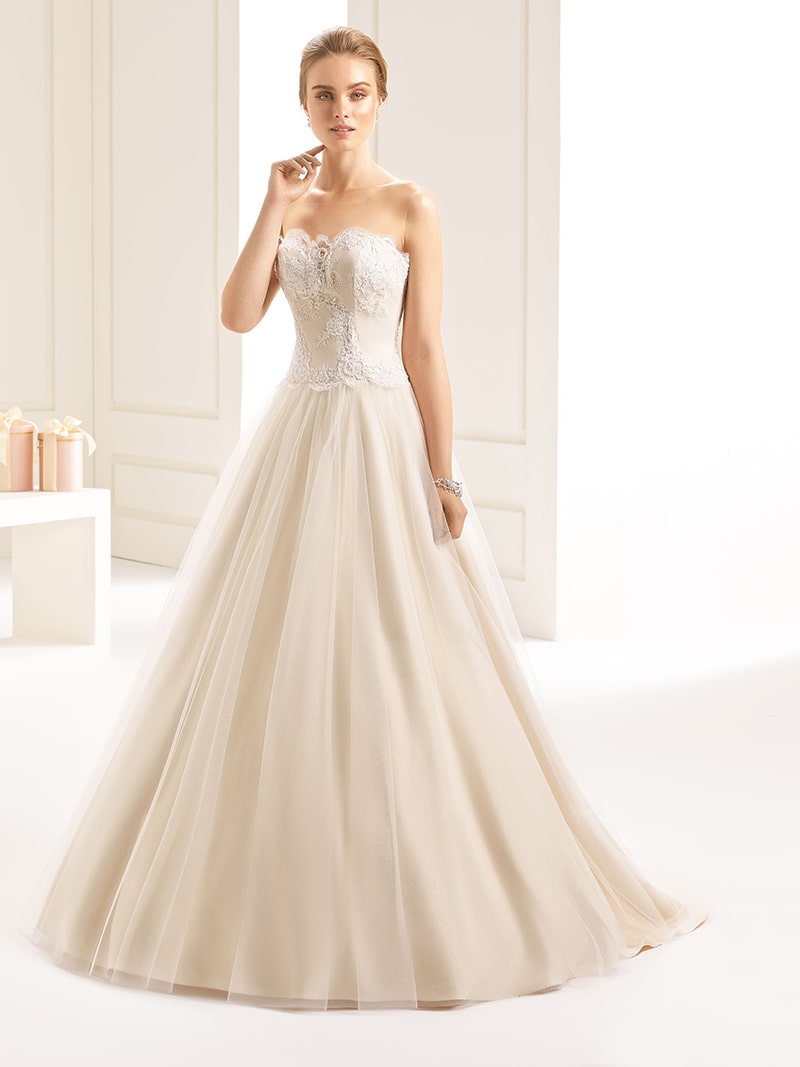 Stellar with Shimmer
For all those who have been trying to convince you that the classic bridal look has little spunk to charm and win hearts, Bianco Evento's Isabelle is crafted to change their minds, win their hearts and leave them spellbound! Isabelle has everything in aces to suit the style and gorgeousness of a belle!
She is nothing short of a regal beauty that will make you look like a queen with the perfect lace bodice, a much-desired combination neckline and a floaty and swishy tulle skirt that is accented with glitter! The pretty Isabella winks of shimmer and glitter and mesmerizes the bystanders with her champagne-coloured sweetheart bodice that is topped with a boat-neck illusion lace!