Feb 22, 2023
Top 5 Ball Gown Wedding Dresses | Characteristics & Advantages
Weddings are one of the most important events in any person's life. Thus, choosing the right wedding dress is a critical part of the preparation process. For generations, ball gowns have been a popular choice for brides. It offers an elegant and timeless look that is perfect for grand and formal weddings. Ball gowns are characterised by their full skirts and fitted bodices, providing a fairy tale look that has captivated brides for centuries.
In this blog, we'll explore the history and origin of ball gown wedding dresses, their characteristics, advantages, and how to choose the perfect one for your special day. So, whether you're a bride-to-be or simply a lover of all things wedding, this blog will undoubtedly provide valuable insights into the world of ball gown wedding dresses.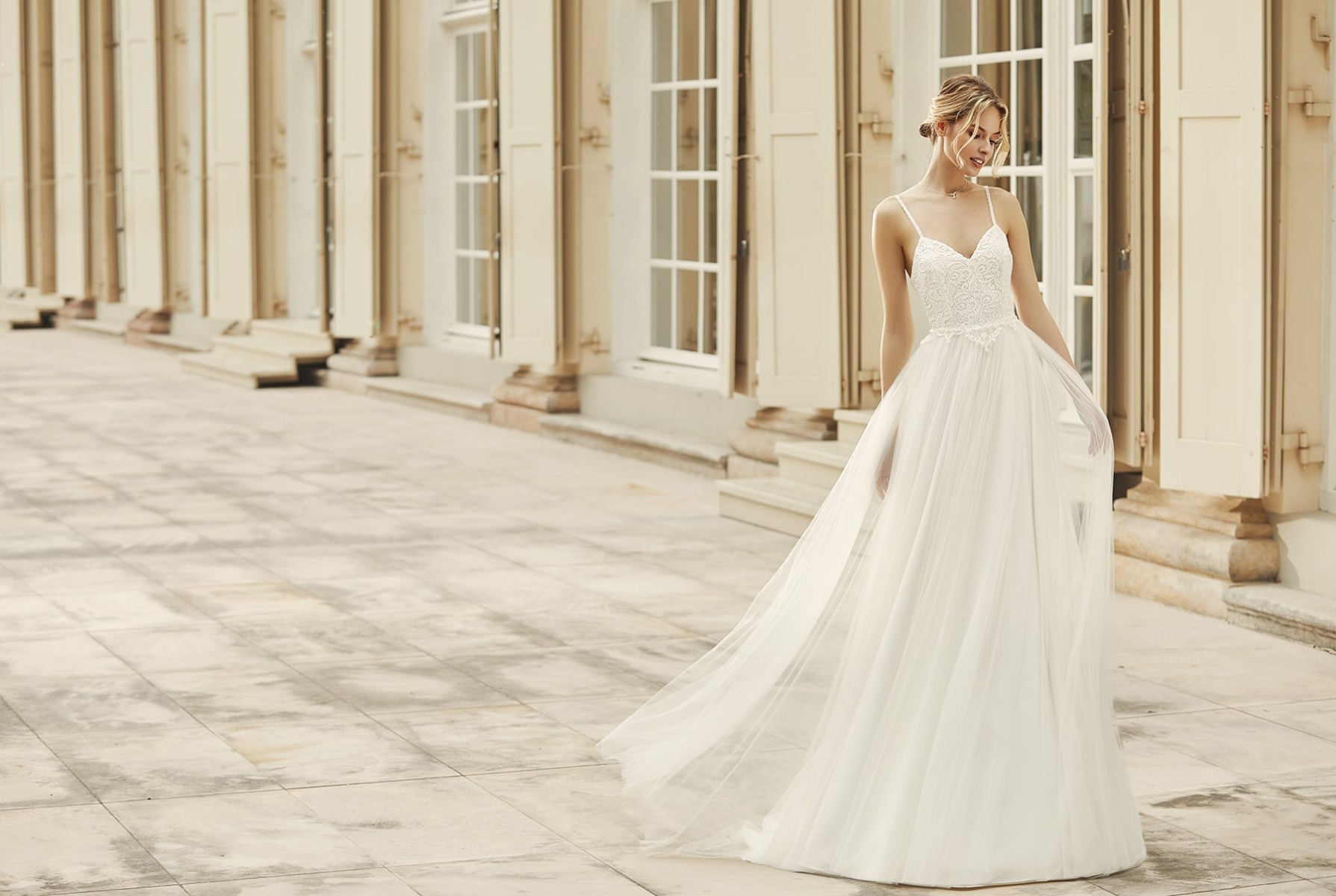 Characteristics of Ball Gown Wedding Dresses
Silhouette and Fit
Ball gown wedding dresses have a classic and timeless silhouette, with a fitted bodice and a full skirt that creates a flattering hourglass figure. The bodice typically has a corset or boned structure to provide support, and the dress can be made from lightweight or heavier materials depending on the season and personal preference.
Fabric and Material
Princess ball gown wedding dresses are typically made from luxurious fabrics such as satin, taffeta, or tulle. These fabrics provide a flattering drape and a soft, elegant look. Often princess gowns come with intricate embellishments such as lace, beading, or embroidery, which add an extra touch of glamour and sophistication to the dress.
Necklines and Sleeves
Ball gown wedding dresses offer a variety of neckline styles, including sweetheart, strapless, or halter. Some ball gowns come with long or short sleeves made from delicate lace or other intricate materials. Also, brides can customise their dresses as per their style and the formality of the wedding.
Embellishments and Decorations
This type of wedding gown is often adorned with elaborate embellishments and decorations, such as lace appliques, beading, or embroidery. The details can be used to accent the bodice, skirt, or train of the dress, adding a touch of glamour and sophistication to the overall look. Whether you prefer understated elegance or a more extravagant style, there is sure to be a ball gown wedding dress that incorporates the perfect embellishments for your taste.
What are the Advantages of Ball Gown Wedding Dresses?
Flattering for Different Body Types
One of the biggest advantages of ball gown wedding dresses is that they are extremely flattering for various body types. The fitted bodice and full skirt work together to create a beautiful hourglass figure, while the corset or boned structure provides support and definition to the waist. Whether you have a petite or curvy figure, a ball gown wedding dress can help to accentuate your best features and create a stunning, polished look.
Elegant and Timeless Look
Ball gown wedding dresses are the epitome of elegance and sophistication, offering a timeless look that will never go out of style. The classic silhouette, luxurious fabrics, and intricate embellishments all come together to create a truly stunning and unforgettable look that will last a lifetime.
Perfect for Grand and Formal Weddings
Ball gown wedding dresses are the perfect choice for grand and formal weddings, offering a touch of glamour and elegance that will leave a lasting impression. Whether you're getting married in a castle, a grand ballroom, or a lush garden, a ball gown wedding dress will elevate the occasion and make you feel like royalty on your special day.
Provides a Fairy Tale Look
One of the most romantic aspects of ball gown wedding dresses is the fairy tale look they provide. With their full skirts and elegant bodices, ball gown wedding dresses create an ethereal and dreamy look that will make you feel like a princess on your special day. Whether you're after a classic fairytale look or a more modern interpretation, a ball gown wedding dress is sure to provide the perfect balance of romance and elegance.
How to Choose the Perfect Ball Gown Wedding Dress?
Determine Your Body Type and Choose the Right Fit
Before you begin your search for the perfect ball gown wedding dress, it's crucial to determine your body type and choose a fit that flatters your figure. Consider the areas of your body that you'd like to accentuate or detract from and choose a dress that will help you achieve the look you want. A good starting point is to try on different styles to find the one that makes you feel confident and beautiful.
Consider the Venue and Theme of the Wedding
The venue and theme of your wedding can have an impact on the wedding style you choose. If you're getting married in a grand ballroom, choose a more formal and traditional ball gown with a full skirt and elaborate embellishments. On the other hand, if you're having a garden wedding, you must prefer a lighter and airier dress with a more relaxed silhouette.
Think About the Type of Wedding You Want
Your style and the type of wedding you want will also play a role in the type of ball gown wedding dress you choose. If you're after a more traditional, classic look, you may prefer a dress with a simple, elegant silhouette and a long train. If you're after a more modern look, you may want to choose a dress with a shorter train or one that features a more contemporary neckline or sleeve style.
Choose the Right Accessories to Complement the Dress
Once you've chosen the perfect ball gown wedding dress, it's time to think about accessories. From jewellery to shoes and a veil, choosing the right accessories can help to enhance the overall appearance of the dress and complete your bridal look. Consider the overall style of the dress and the venue and theme of the wedding when choosing your accessories. Whether you prefer a more understated look or something more dramatic, the right accessories will help you achieve the perfect bridal look for your special day.
Top 5 Fairytale Goddess Ball Gown Wedding Dresses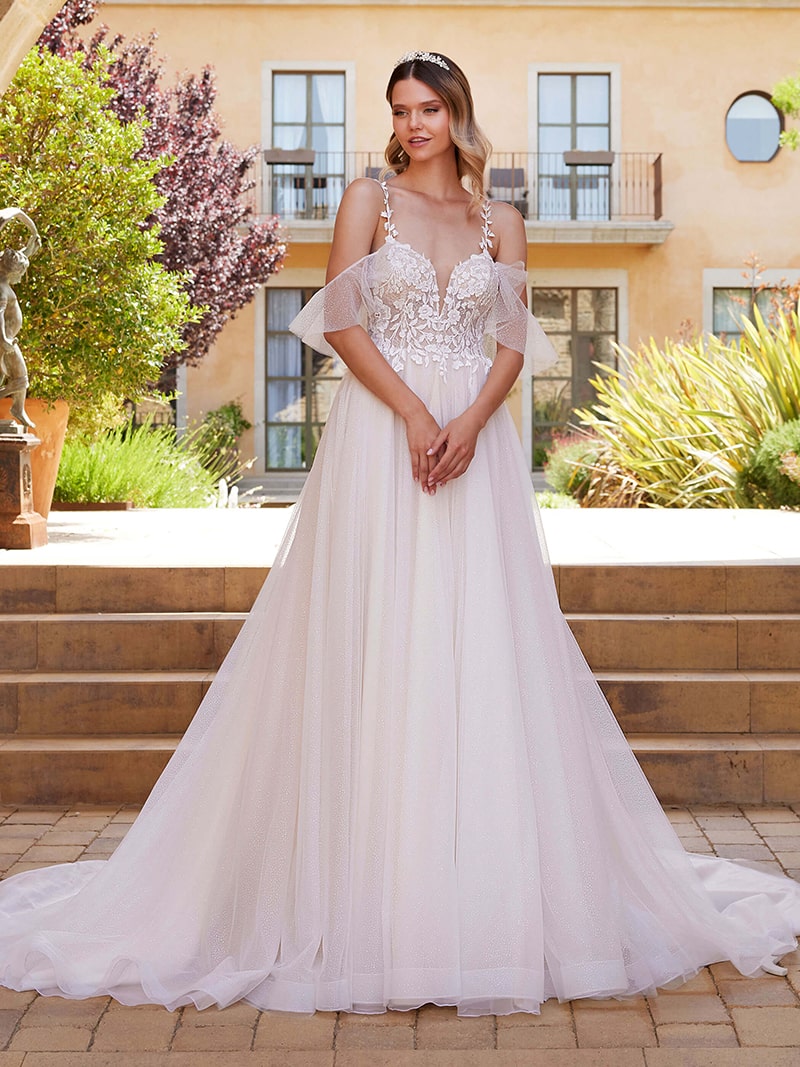 ONYX
This beautiful ball gown wedding dress features a stunning combination of lace and tulle. The dress creates a magical and ethereal look to leave a lasting impression. The sweetheart neckline and detachable strap sleeves add a touch of romance to the design, while the big glittery skirt provides the perfect backdrop for a fairy tale-inspired bridal look.
Whether you're getting married in a grand ballroom or a lush garden, ONYX is the perfect dress for a formal and elegant wedding. The silhouette and embellishments will help to create a beautiful hourglass figure, while the lace and tulle provide a touch of texture and depth.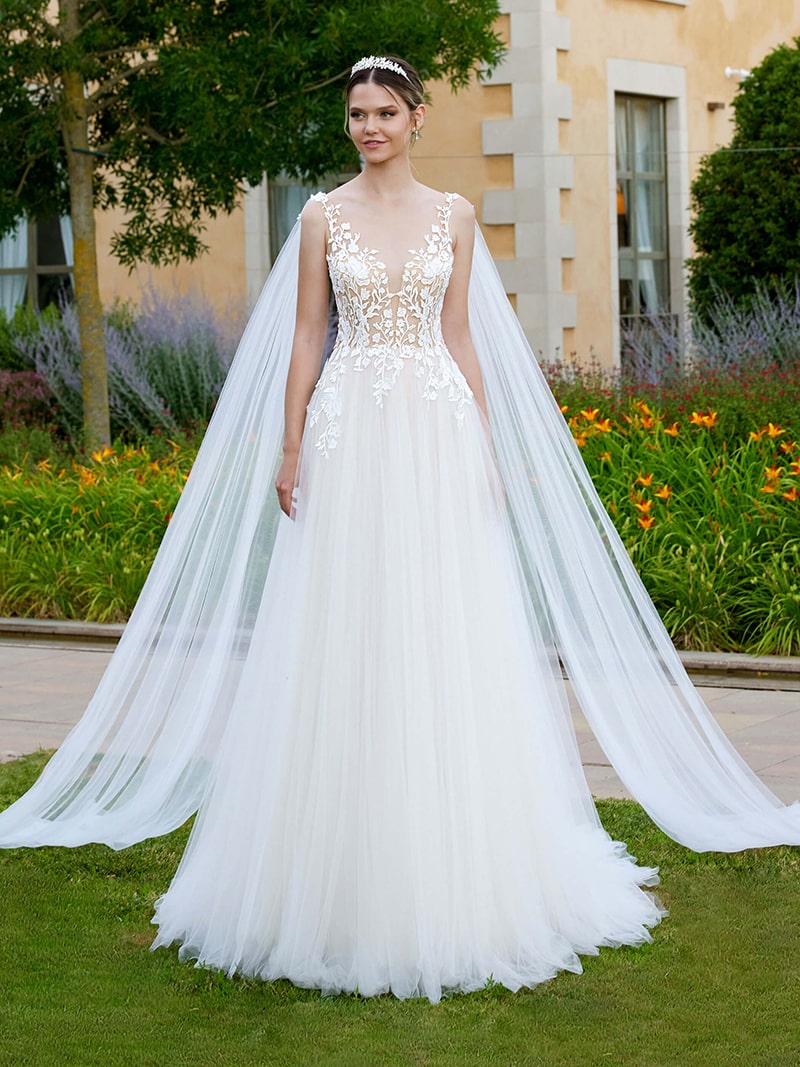 AQUAMARINE
This beautiful princess-cut gown from the Bianco Evento premium collection is designed with the stylish bride in mind. This sparkly ball gown wedding dress combines bold and contemporary elements with timeless romance.
The tattoo neckline and sleeveless design of AQUAMARINE offer a modern twist on the traditional bridal look. The detachable cape adds a touch of charm and ethereal romance, while the glamorous princess-cut silhouette helps to create a stunning hourglass figure. For those who love the traditional look of a princess wedding, AQUAMARINE is sure to impress.
MORGANITE
MORGANITE, the beautiful princess bridal gown exudes sophistication and glamour. This gorgeous sleeveless dress features a chic V-neckline in front and a stunning illusion back for making a statement on your special day.
The luxurious crystal double bands in the waist lend MORGANITE a touch of luxury and glamour. The beautiful arrangement of the crystals is sure to sparkle in the light, drawing attention to your waist and creating a stunning hourglass silhouette. With its chic and sophisticated design, MORGANITE is a beautiful choice for any modern bride.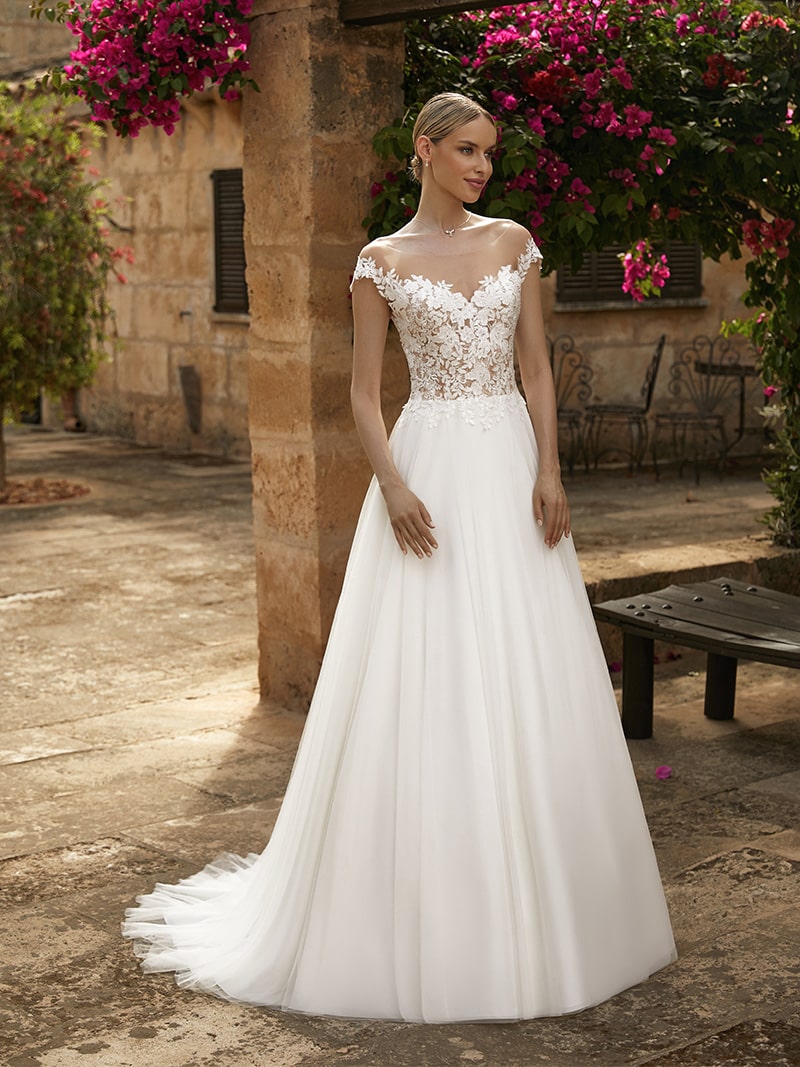 ALICE
The off-the-shoulder princess wedding dress is a timeless classic that exudes elegance and sophistication. This particular dress features a Tattoo neckline and Illusion back, adding a touch of modernity and whimsy to the traditional silhouette. The neckline beautifully frames the shoulders and décolletage, while the princess cut creates a dreamy, fairytale-like appearance. The illusion back, adorned with delicate detailing, adds a subtle touch of sensuality and romance.
Made from high-quality materials and expert craftsmanship, ALICE is the perfect choice for modern brides. The dress offers the perfect balance between classic and contemporary styles. Whether you're having a grand wedding or an intimate ceremony, this dress will make you feel like a true princess on your special day.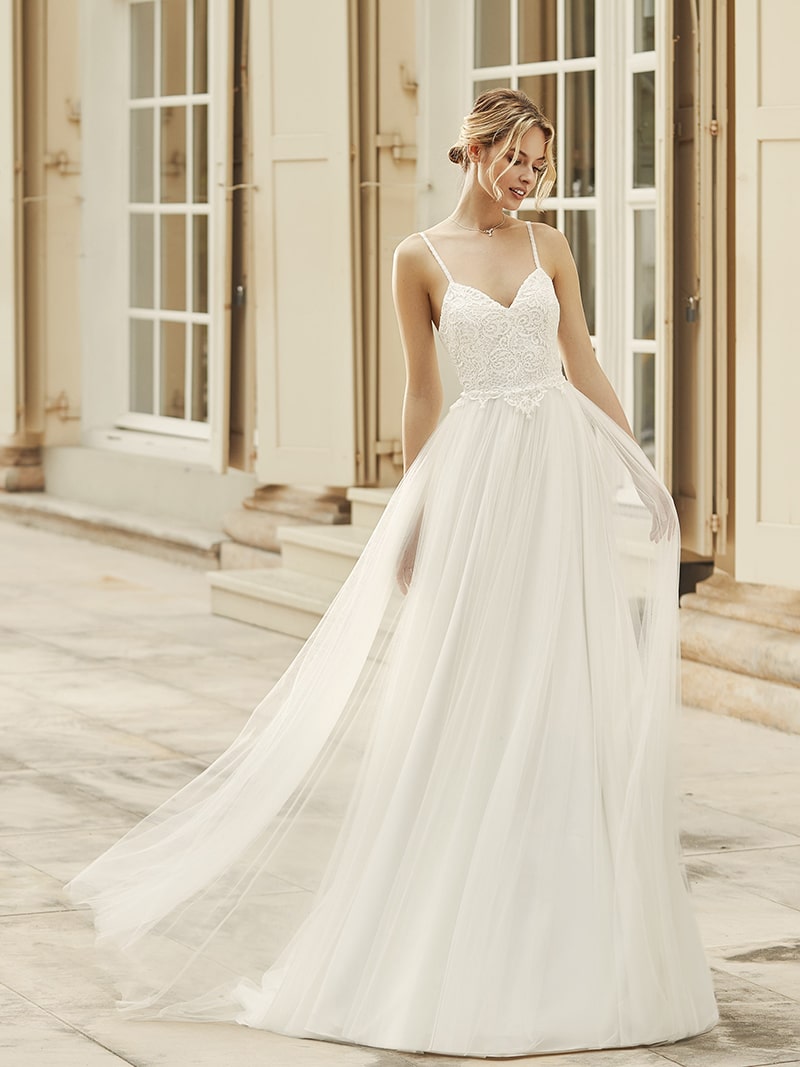 ESPERANZA
ESPERANZA is a classic and timeless wedding dress that will make modern brides look beautiful and elegant. The dress is made from high-quality lace and tulle, which provides a soft and comfortable feel. The sweetheart neckline adds a touch of romance and femininity while delicate lace shoulder straps add a subtle hint of sophistication.
The tulle skirt and train are designed to create a graceful and flowy effect that's perfect for dancing or walking down the aisle. The dress features a fitted bodice that flares out into a voluminous skirt, creating a flattering and elegant silhouette. The train is long and sweeping, making it perfect for dramatic entrances and exits.
Conclusion
From elegant and understated designs to dramatic and bold styles, ball gowns offer a wide range of options for every bride's taste and preference. They offer an unmatched sense of drama, making them perfect for both indoor and outdoor weddings. Now you have the perfect ball gown design inspiration to wear on your wedding day. Check the Bianco Evento bridal collection for more ball gown designs for your special day.