Sep 28, 2020
Glow in the Warmth of Love For Your Winter Wedding With Faux Fur Boleros, Shrugs & Capes
Winter weddings with flurries of drifting snow make for the perfect picture of a romantic wedding. But while the warmth of love can keep you glowing, cold can bite into your bare shoulders and make you shiver and shake. No bride wants to look frostbitten on their wedding photos, and because nothing should come in the way of true love, stylish faux fur boleros, shrugs and capes are the best fixes to keep you warm and glowing! Here are some stunning faux fur accessories that will not only keep your shoulders but will also enhance and compliment your gorgeous dress!
Long-Sleeved Faux Fur Jacket
Add a dash of opulence to your gorgeous wedding dress with a faux fur jacket and keep the cold and frost of chilly winter away. Stay toasty and fashion-forward with Bianco's gorgeous, deep and luxuriant pile of the faux fur long-sleeved jacket, E20, to delight on your special day without having to worry about looking stiff from cold. Made with plush ivory faux fur, Bianco's E20 jacket gives off a regal elegance and sophistication that uplifts the entire bridal look, greatly!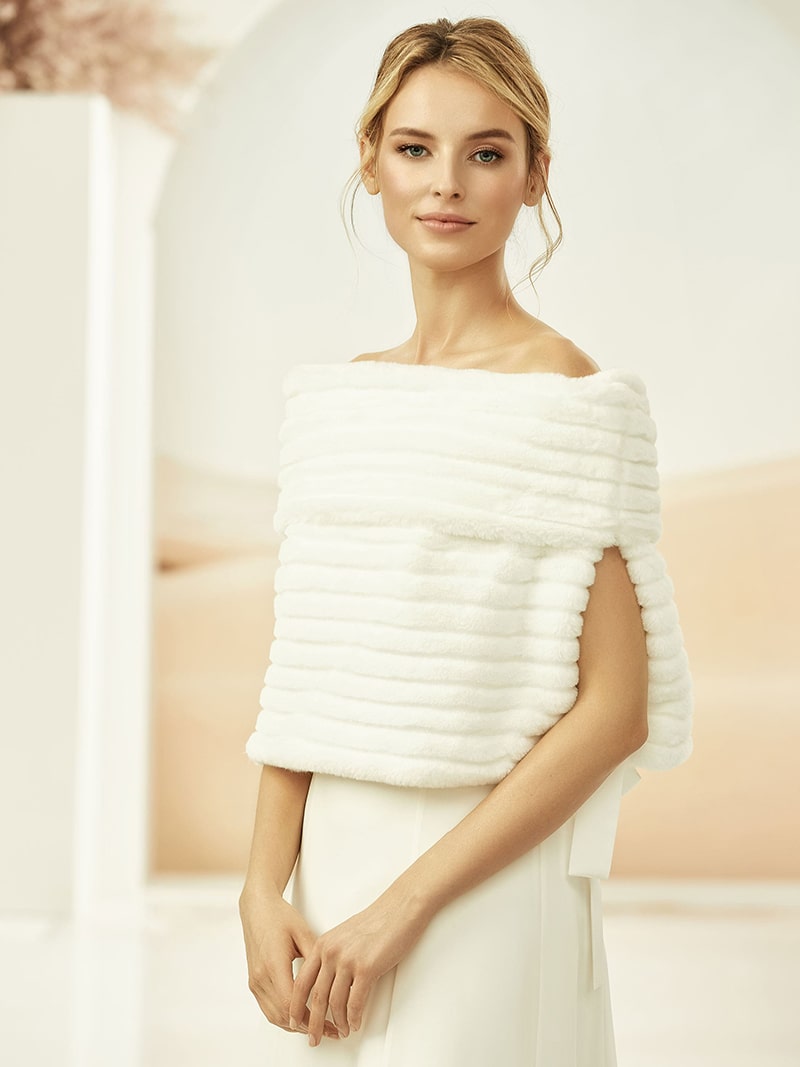 Sleeveless Faux Fur Shrug E316
Worried that looking stellar on your winter wedding date will come at the cost of chattering teeth? Keep your worries at bay and get ready to wear your radiant smile on your wedding day with Bianco's luxurious sleeveless faux fur shrug! Perfect for creating that most attractive of winter wedding wear, Bianco's E316 sleeveless faux fur shrug will let you flaunt your beautiful shoulders while keeping you warm from the cold!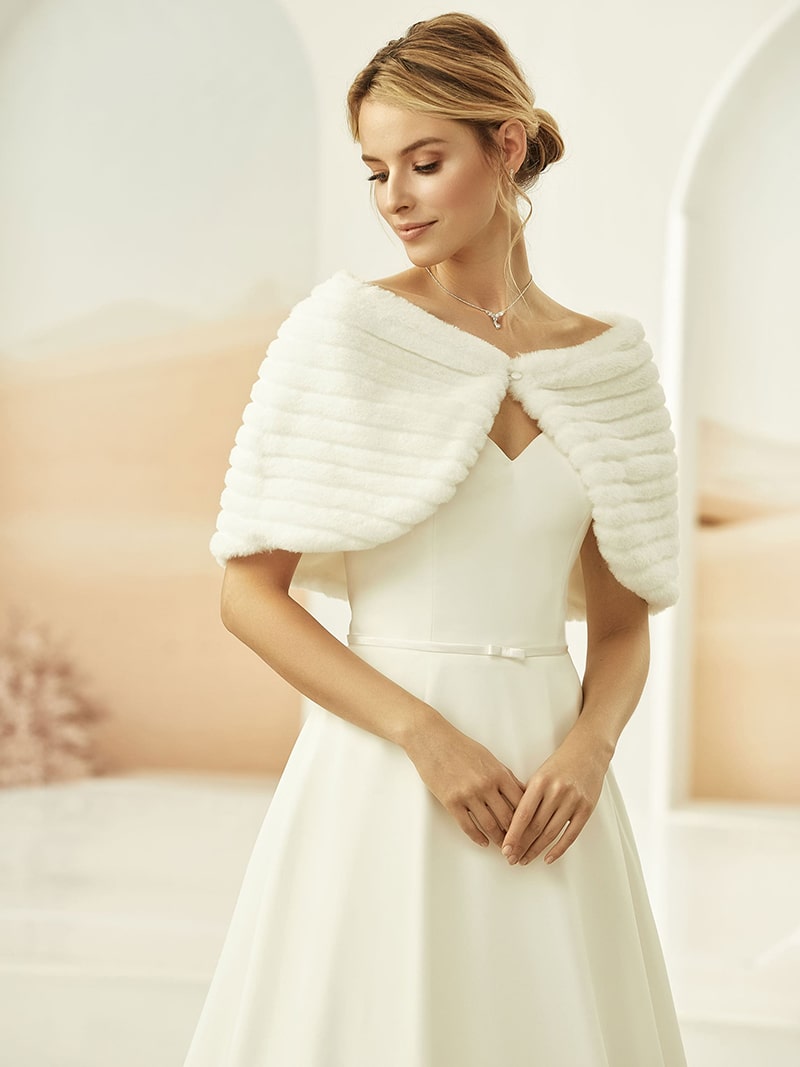 Ribbed Faux Fur Cape E329
The impressive neckline of your fabulous wedding dress is good to grab all eyeballs at the party! But a clumsy shawl or a shrug can easily ruin the look, in case you don't choose wisely. Bianco's ribbed faux fur cape E329 is a knockout choice to look stellar on your special day and let your ravishing dress bewitch the guests! Demure and elegantly sophisticated, the super soft faux fur cape sits gracefully across your chest while accentuating your shoulders.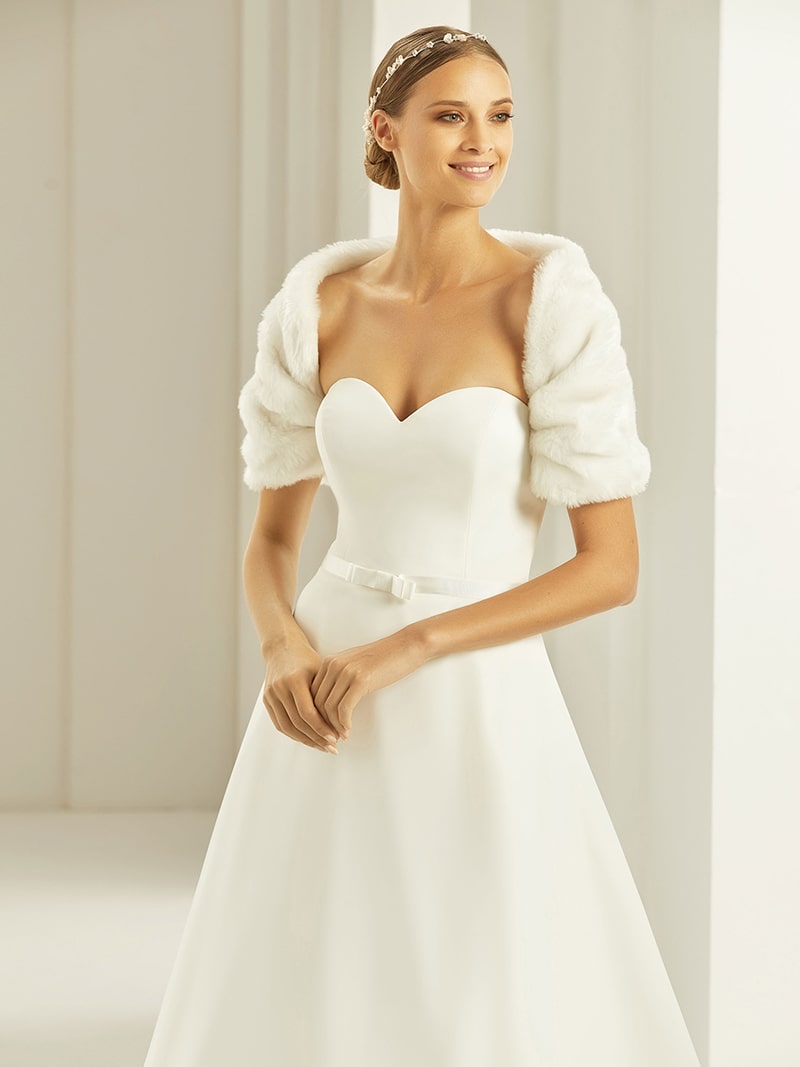 Shoulder-Wrapped Faux Fur Bolero E262
Another delightful drape that promises to enhance the alluring exquisiteness of your striking wedding dress is Bianco's unique shoulder-wrapped faux fur bolero! Fittingly snug and wonderfully soft, Bianco's charming shoulder-wrapped bolero, E262, strikes the perfect balance between showing off and warm up. Made from soft and high-quality faux fur, E262 is gorgeously stylish and comfortable to charm up your winter wedding date! Most of all, the open front of the bolero works incredibly well to accentuate the dress neckline and your upper torso.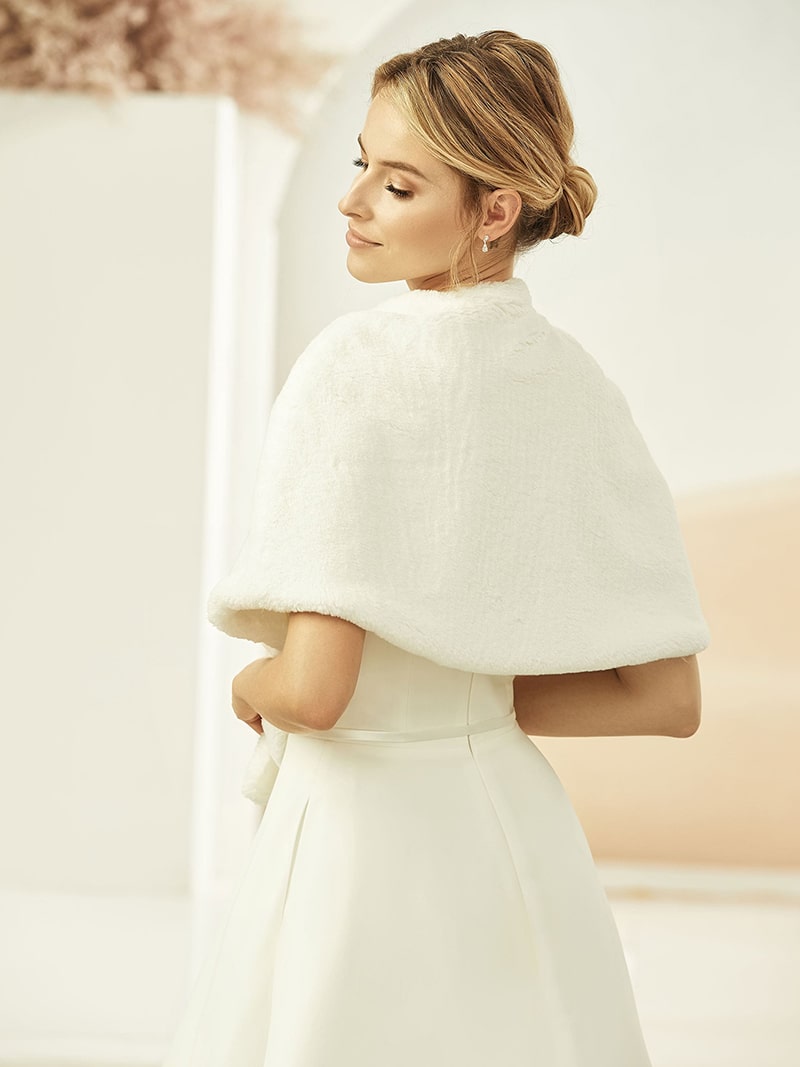 Double-Breasted Faux Fur Cape E306
When you're a fashion-forward modern bride, you know your comfort matters as much as your style. If you have already found the statement dress for your special day, finding a dress accessory that perfectly compliments it is an equally important affair. Bianco's double-breasted faux fur cape E306 is a fantastic choice to draw your search to a close. Made with super fine and soft faux fur, the cape's deep-cut v-neckline sits boldly across the chest and incredibly accentuate the upper torso and the bodice of your dress.