May 10, 2021
Decode Bridal Necklines Before you Choose that Pretty Wedding Gown!
When the most of your wedding dress decisions revolve around waistline, fabric, sleeve styles and fabric, you tend to forget about necklines. But that's what frames your face in all your wedding photos. Necklines can make or break your look and a perfectly done neck can do all the wonders in your close-up clicks. However, choosing a perfect neckline sometimes can be a tad bit difficult with an array of bridal necklines available nowadays.
Explore classic wedding dress necklines here as your basic guide to know more about your fabulous fit.
Classic V-Neckline: Fabulously Stunning
Absolutely flattering in every bit, a classic V- neckline makes you look drop-dread gorgeous if you have an hourglass frame. Thanks to the Kadarshians, for making corsets so popular (ideally the concept of V-neck stems from there). Females blessed with full busts and curvier hips can flaunt the flattering V-neck and sport a stunning appearance on your wedding day. Check out our exclusive couture line Shanon and Sumatra to experience the grace of classic V-neckline alongside A-line drapes.
V- necks are great for shorter brides as well as it creates an illusion of height. In fact, brides with broad shoulders and a structured torso can comfortably sport a V-neck wedding gown.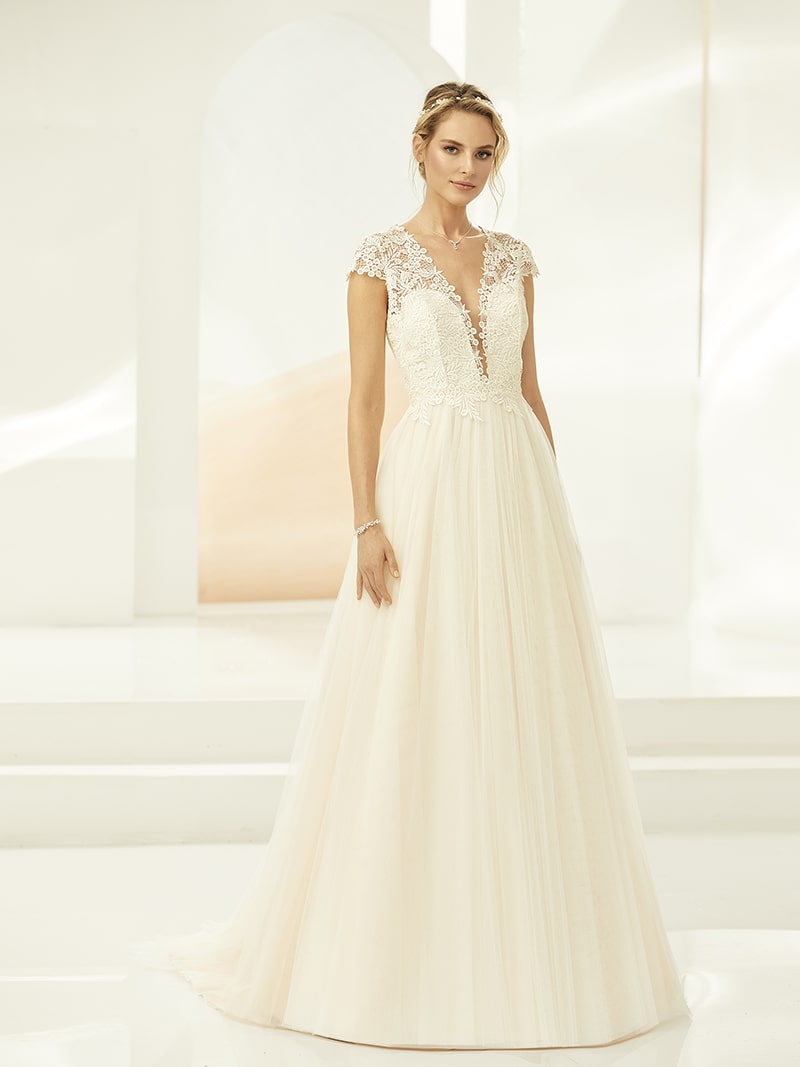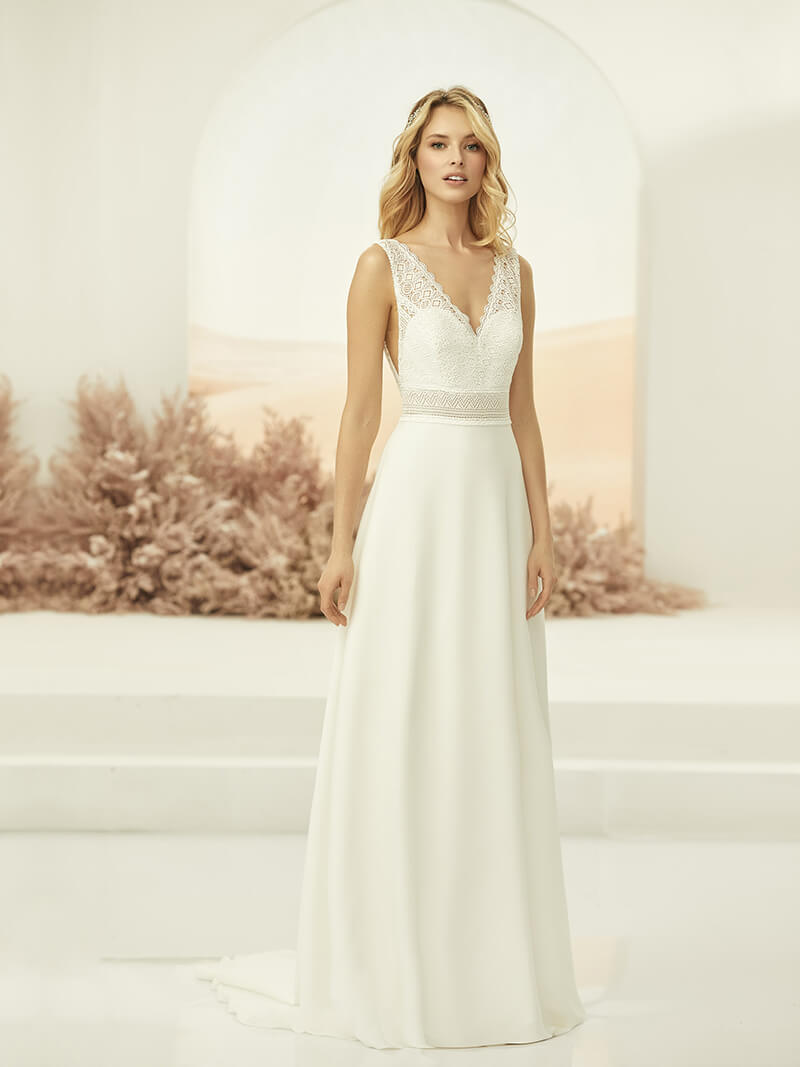 Off-Shoulder Neck: Grace Intensified
Off-shoulder bridal neckline accentuates a well-defined shoulder and long collarbones. Medium to full-busted women look extremely stunning in this neckline. Check out Heidi from the Bianco Evento wedding couture, which is a rustic beauty with a modern twist. Crafted with high quality lace and chiffon, this sophisticated outfit is all about a graceful look and nothing else.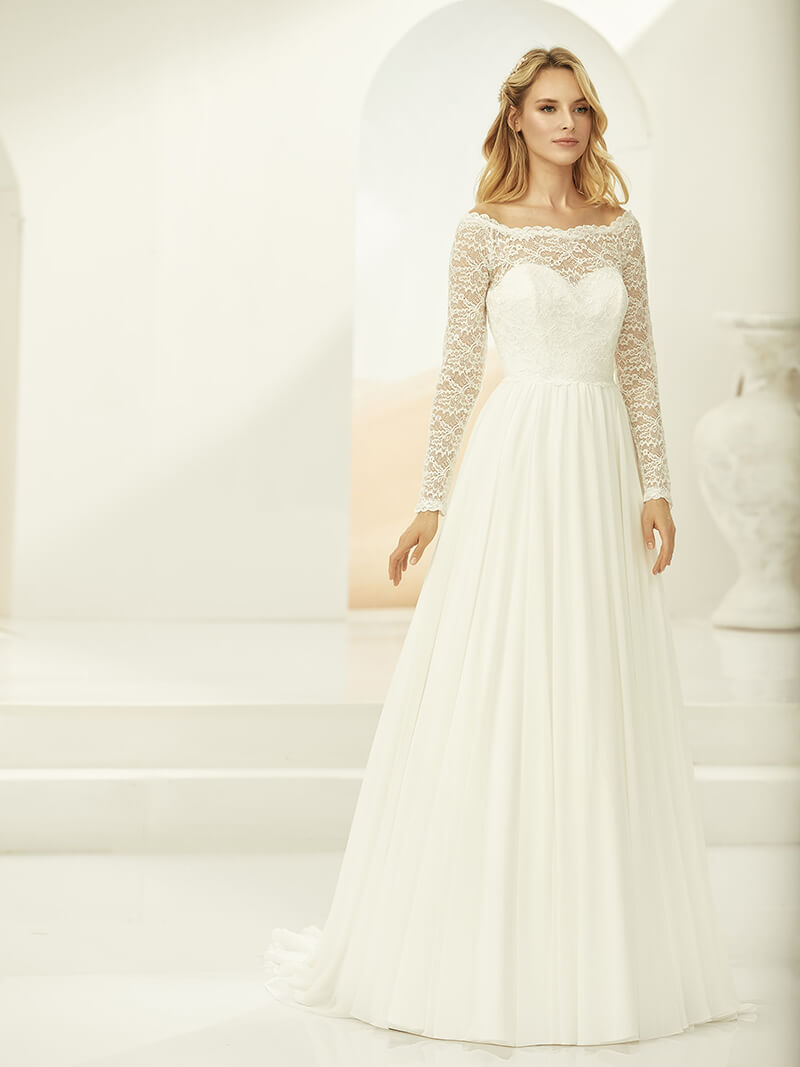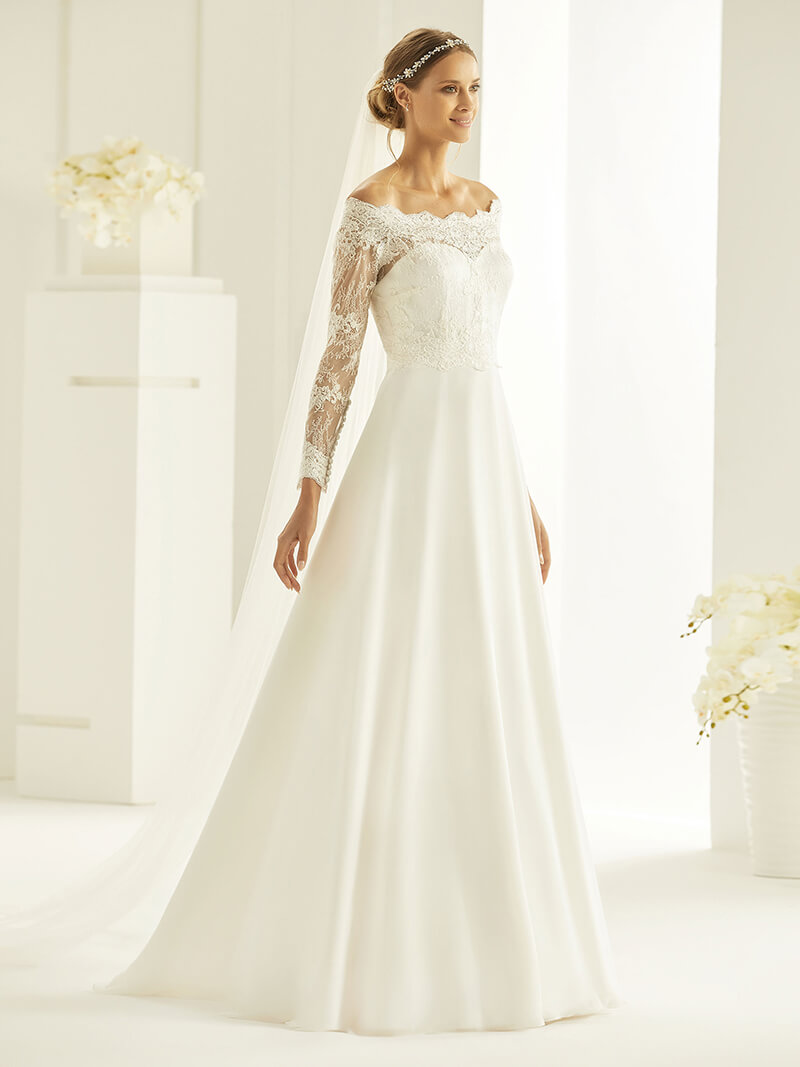 Sweetheart: Perks up the Drama
All it takes is a sweet dip right in the center to notch up a sartorial statement. It's fantastic for brides with generous bust lines and a pear-shaped silhouette. Choose from Bianco Evento's exclusive wedding couture and you'll certainly fall in love with Isabelle, Madlena, Lovia, for the way they accentuate your decolletage.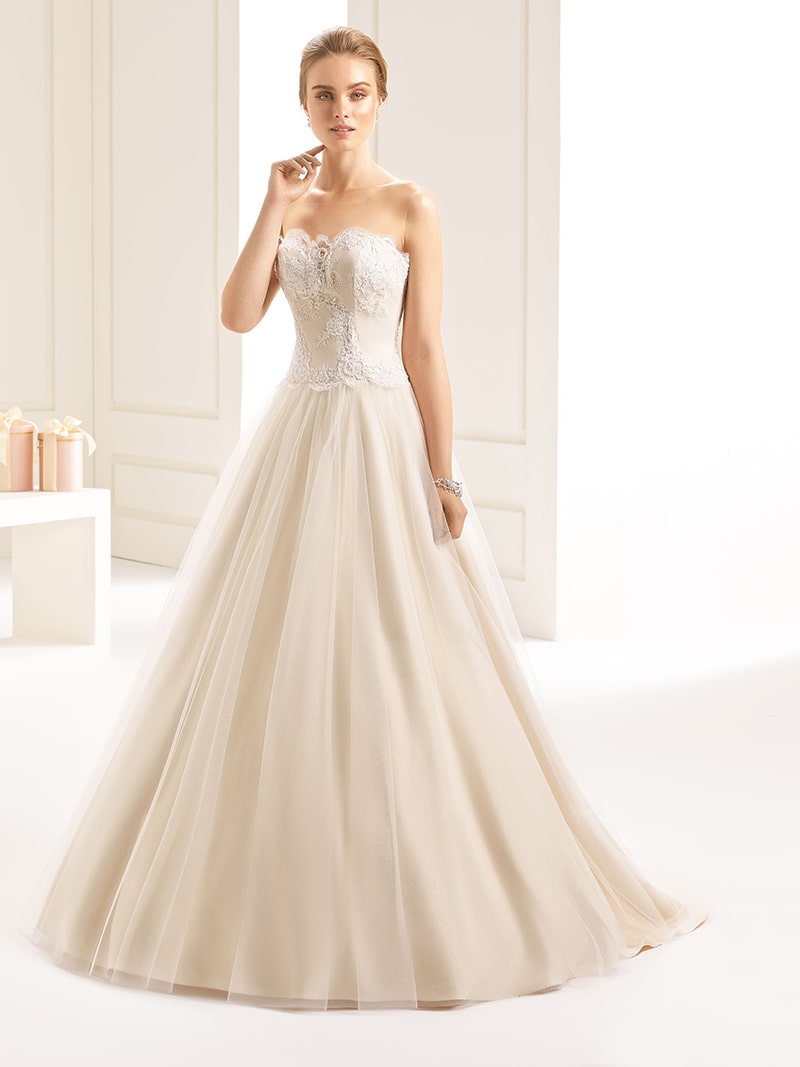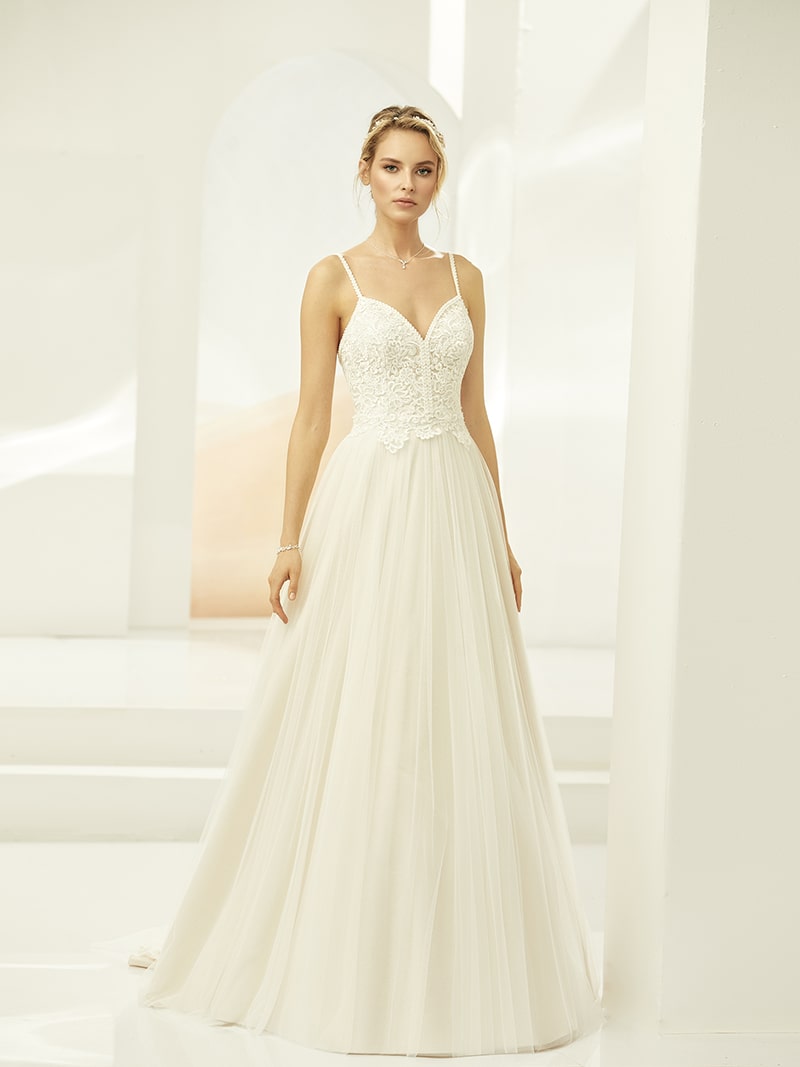 Strapless: Uber chic and Gorgeous
A narrow frame with elongated neck flaunts this best. Behold the grace delivered by our exclusive line Neve and Harmonia, which perfectly defines your shoulder naked back and fuller arms. While they perk up the feminine grace, they would certainly add a dollop of drama to your wedding ensemble. Oozing out confidence in every bit this kind of bridal neckline speaks of comfort & elegance at an equal elan.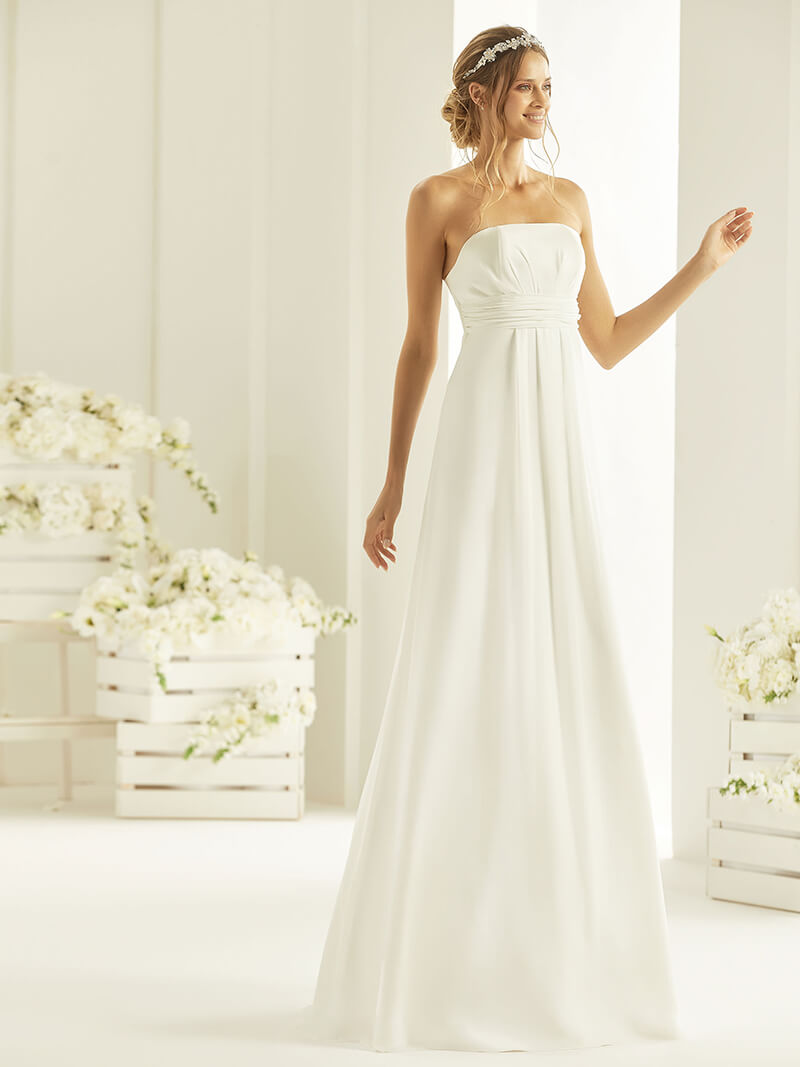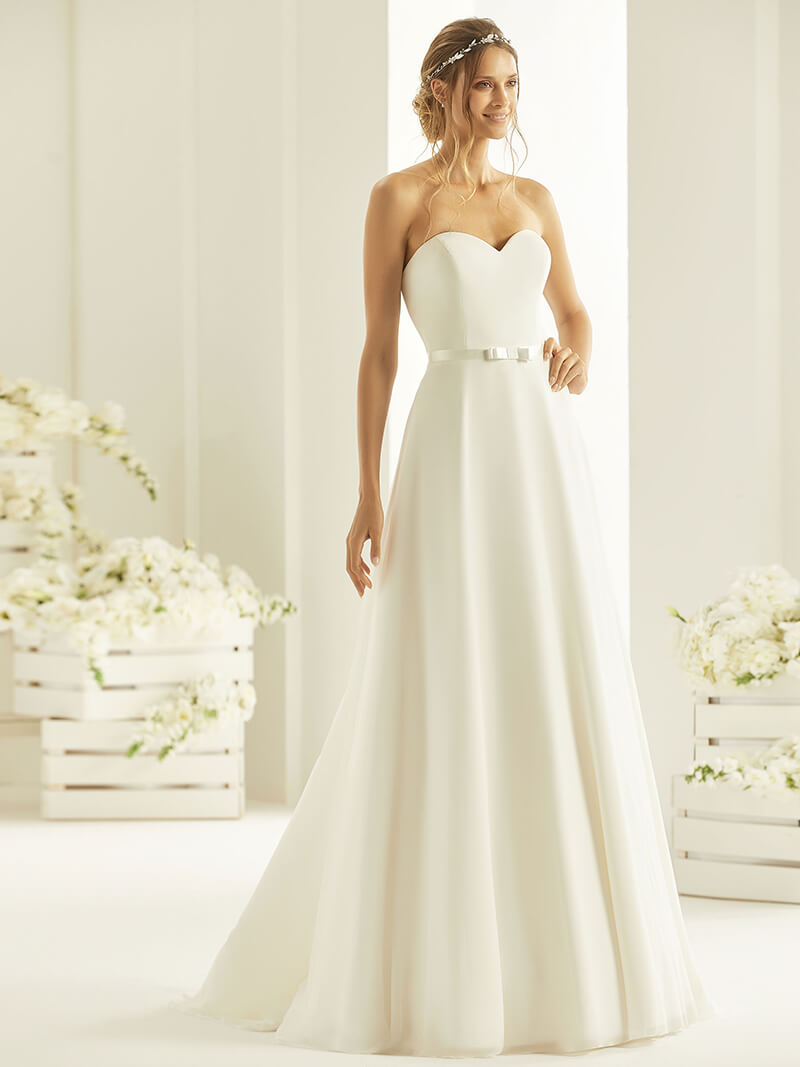 Illusion Neck: Fuss-free yet Super Chic
If you are in love with Meghan Markle's chic fashion sense, illusion neck gowns can be a thing for you. But, it's definitely not the choice for brides with heavy bust. That stunning neckline is great for narrow frame as it adds a lot of drama and pizzaz that you'll cherish. It's a tad bit higher around the neck and skims around your collarbone. While it does not flaunt much of your bare skin, it certainly adds charm with its rare kind of minimalism. This kind of style hardly needs any necklace, but a messy bun would certainly complement the look.
Creating your wedding look is one of the most exciting things ever. You just can't wait to show it to the world. So do we. That's why Bianco Evento brings an array of bridal necklines that the world will devour.