Nov 18, 2020
Add A Touch Of Graceful Elegance To Your Bridal Look With These Splendid Chiffon Bridal Boleros
There's no denying that accessories can make or break a look. A gorgeous dress can easily become a part of an eyesore ensemble if you are not careful with how you accessorize. You may have picked a stellar dress and a stunning pair of shoes to walk down the aisle, but have you picked the right accessories as yet? Jewellery, headpieces, belts and purses are some of the usual suspects that brides choose to accessorize their bridal look with. But when you want a standout look that will complement your personality, bridal boleros or shrugs are a great option to try! Incredibly versatile in style and purpose, boleros can work as great pairs for coordinates or simply to enhance the look of an ensemble. Chiffon bridal boleros, in particular, are unique in adapting to styles, weather and in channeling a look that is both sleek, modish and charmingly ethereal.
Bianco Evento has a wide selection of chiffon bridal boleros in a variety of styles and silhouettes to suit the tastes and preferences of different brides!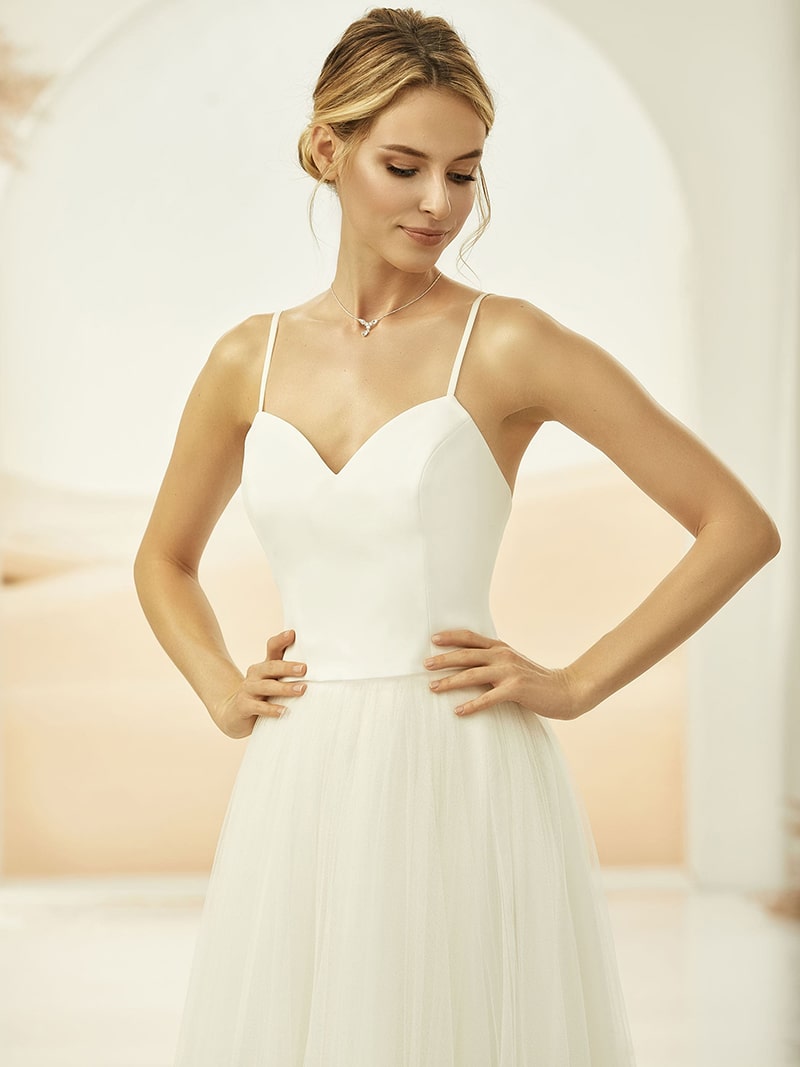 Corset to Co-ordinate
Are you a fashion-forward bride who is set out to break some old fashion moulds and myths? If bridal coordinates are your chosen fashion game-changer to channel your unique style, then it's no guessing what a gorgeous top can do to take the look to sky-high levels! Bianco Evento's chiffon corset with delicate shoulder straps is especially phenomenal in perfecting a look that is modishly gorgeous and gracefully elegant. Beautifully elegant, E337 has a charming and feminine vibe about itself that can be a perfect pair to airy chiffon or crepe skirts or a voluminous tulle skirt. In fact, it won't be a stretch to say it is perfect to top your bridal look with a touch of sleek and modern elegance that truly reflects a modern bride's multifaceted personality!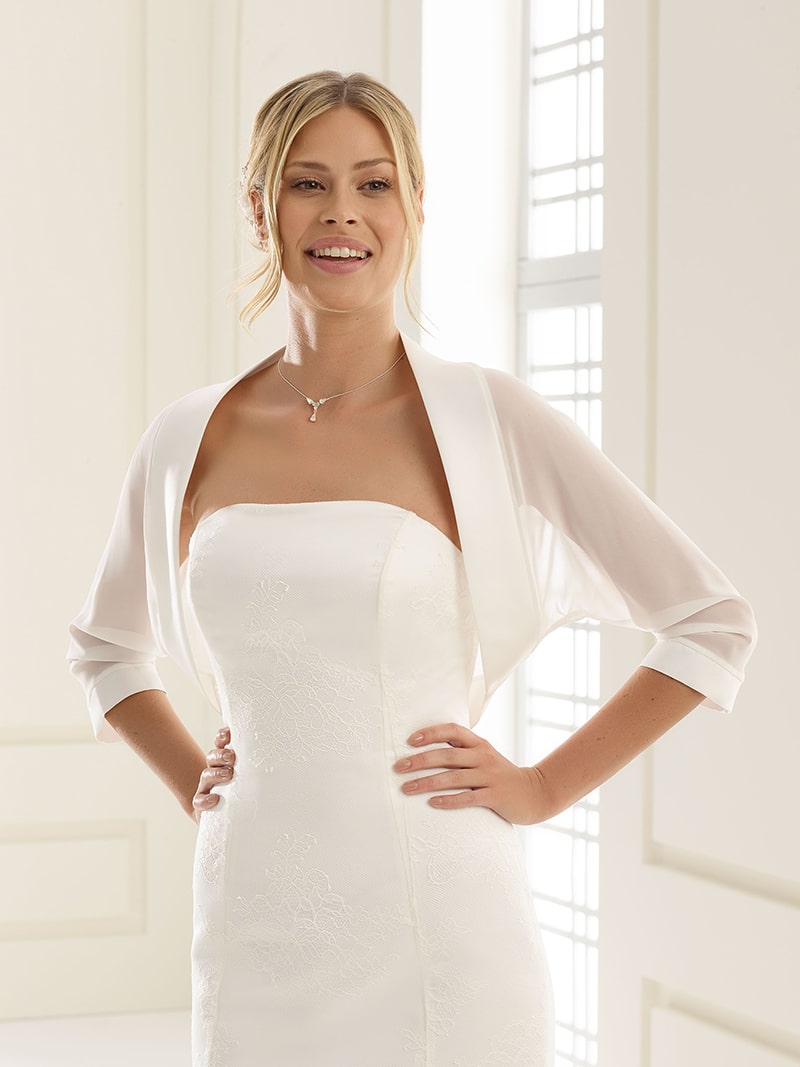 Flaunt Some Flighty Fun
Finding the right bridal look to reflect and complement your sprightly, fun and free spirit can be an uphill task at hand. And while you can still find a pretty boho-inspired dress for your big, zeroing down the accessories to perfect the chic, bohemian look is a delicate task. A floaty, light chiffon bolero can do wonders to enhance the look and add an elegant flighty touch to your wedding ensemble. Bianco Evento's chiffon beauty E92 has the much-desired fluid and free form that seems to have been crafted keeping the sprightly brides and their free spirit. The soft, rounded satin edge gives it the extra flair to perfectly complement your romantic dress!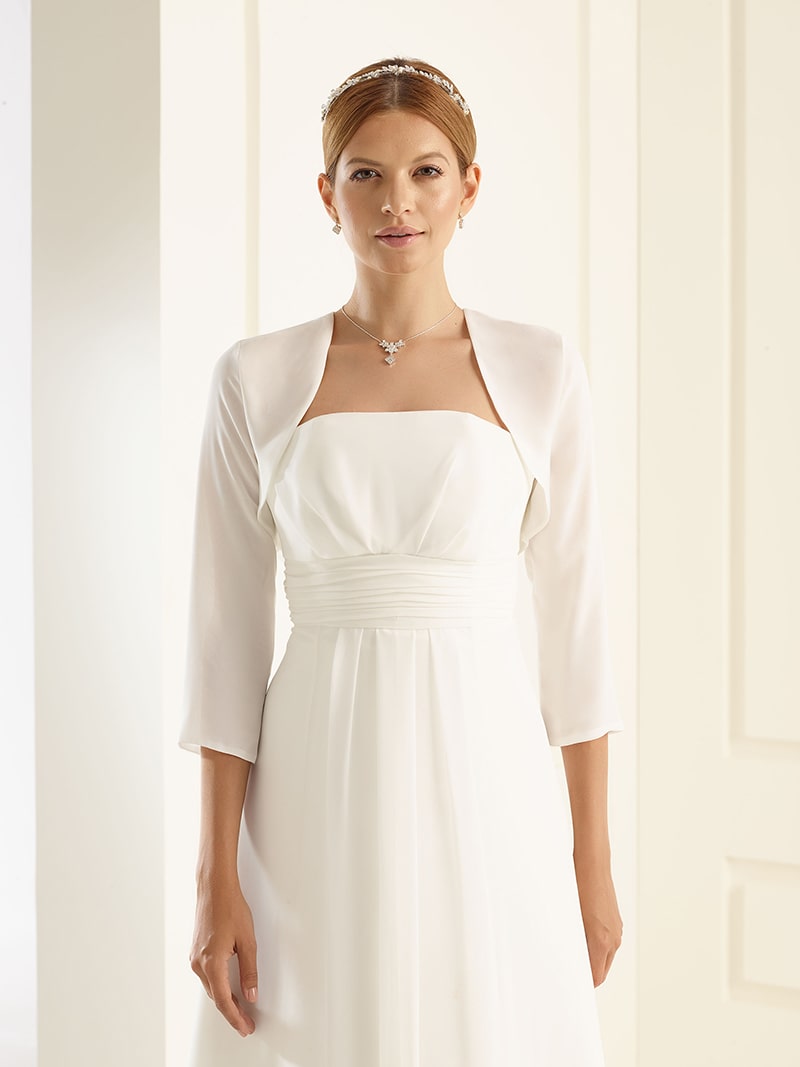 Short & Long Wonder
When you have set your mind on sporting the classic bridal look for your big day, then adding a unique element or two that synchronizes with the entire ensemble might be a good idea to reflect your style and personality. The classic bridal bolero or shrug is usually a very short one that does not extend beyond the ribs and tightly wraps around the shoulders to lightly complement the bridal dress without overwhelming the look. It's a great look to choose, but a unique signature style can be added to this with Bianco Evento's E167. The ¾ sleeves gives it a smart, short-long style that can enhance your bridal look with a touch of elegance and modish grace!