Jun 12, 2020
Ball Wedding Gown: Why It Can Be the Hottest Choice for Your Big Day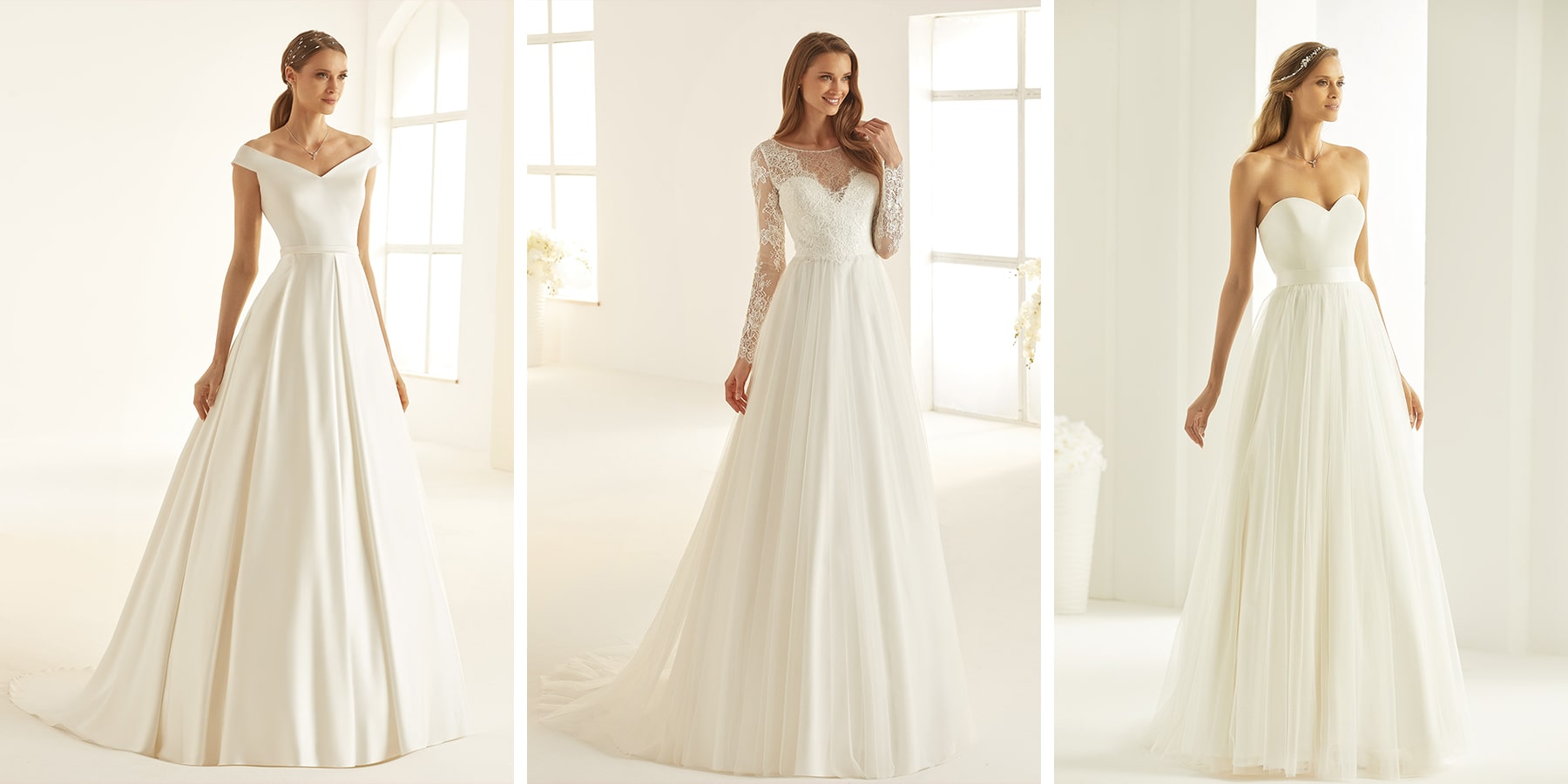 So, when you were going out for wedding dress shopping , you did not have the inclination to buy a voluminous ball gown. You were going for more of a fitted silhouette, like sheath, mermaid, or even A-line. Then you walked into the bridal boutique and saw this gorgeous princess dress that makes you feel like it is 'the' dress, it is just what you need. And now you are trying to reason with yourself, why you should stick to your original plan and not invest in a dress that has a sweeping skirt.
As a bride-to-be, it is quite natural to be nervous or overwhelmed about the process of shopping for bridal dress. There are so many silhouettes, so many designs, necklines, hemlines and so many materials to choose from. What is the right fabric for you? Which silhouette will look the best on you? What type of neckline should you go for? What should be the hemline? There are so many questions that swirl through your mind and you are left somewhat confused and exhausted. However, your wedding dress shopping experience does not have to be so stressful. Going for a gown that is flattering to your body type and grabs attention instantly, can put all your bridal styling worries to rest.
Here's why a ball wedding gown can be a wonderful choice for your big day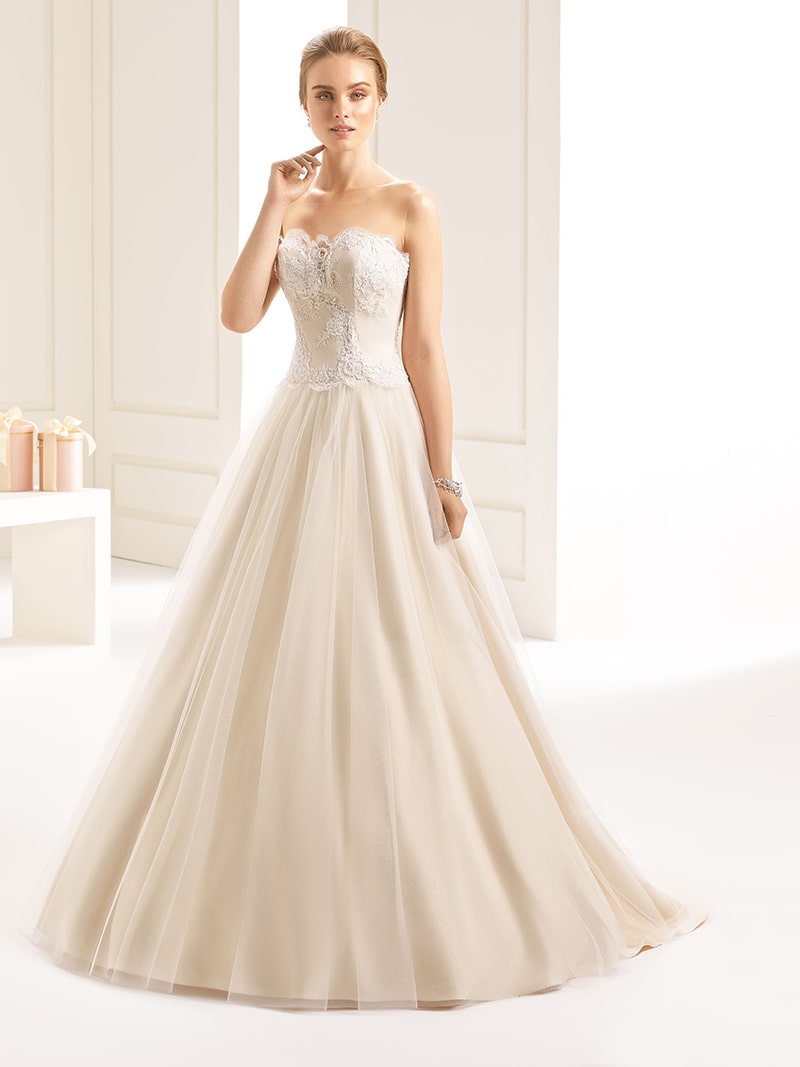 They are flattering on everyone:
Knowing your body-type first is undoubtedly the right way to start looking for wedding dresses. You will find that much like the A-line silhouette, the ball wedding gown is flattering on most body types. Curvier women find that a fitted bodice and a full skirt helps to bring out the right curves of their figure, while petite girls get an enviable scale from the flowing skirt and deep or illusion necklines. Taller ladies find that they get an almost statuesque silhouette when they down a dress with a wide, floor-skimming hemline. There is a ball gown for every queen; all you need to do is find the one that's right for you.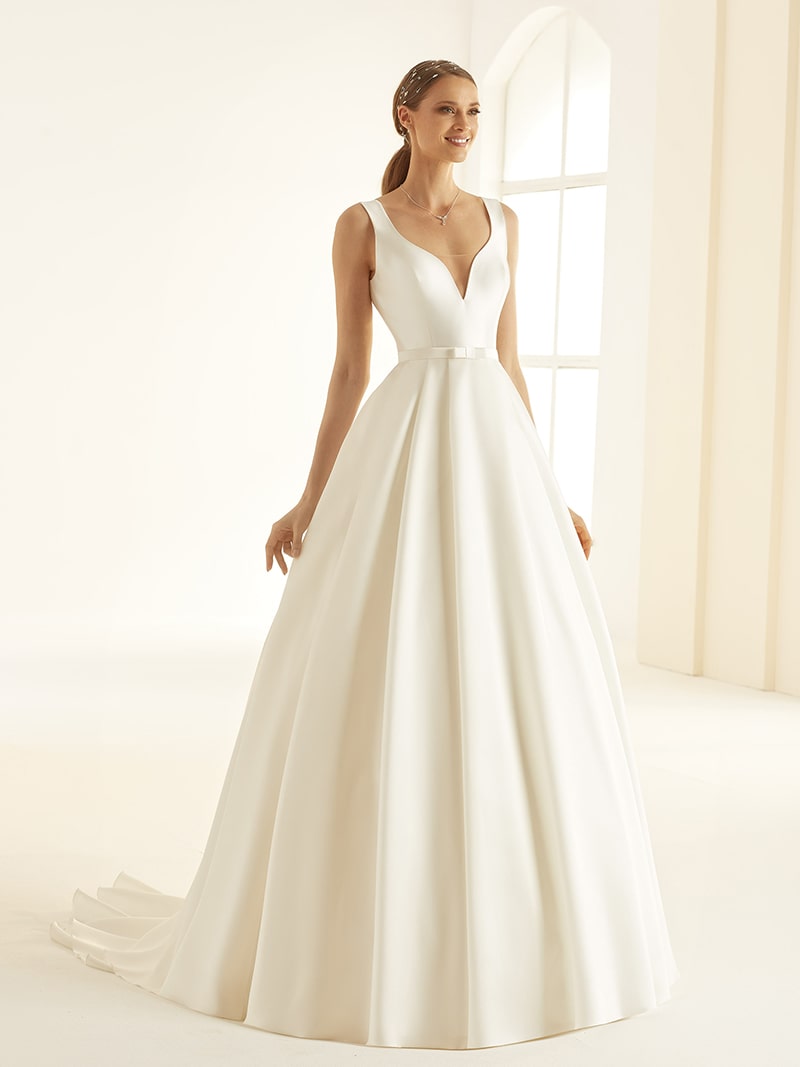 The variation in styles is astounding:
As far as designs go, the options in ball wedding gowns are wide ranging. Whether it is a moderately embellished number you are looking for or a much more modern minimalist design - you will get that and much more if you know where to look. For a subtle champagne hued gown, Bianco's Isabelle comes to mind. This is a truly regal dress featuring an illusion tulle bateau neckline which perfectly complements the sparkly glitter skirt and train.
Larissa too is a beautiful gown with an exquisite lace bodice and a soft tulle skirt.With a long train and semi-full skirt, both Larissa and Jessica are absolutely mesmerizing, though the latter features a subtle, minimalist style with lush satin and bold pleats. Off-the-shoulder ball gowns, like Isolde, are reminiscent of the classic styles, much like the ones that fictional princesses are seen wearing in movies. Esmeralda and Imperia are shining members of Bianco's minimalist ball gown collection - charmingly elegant in their simplicity.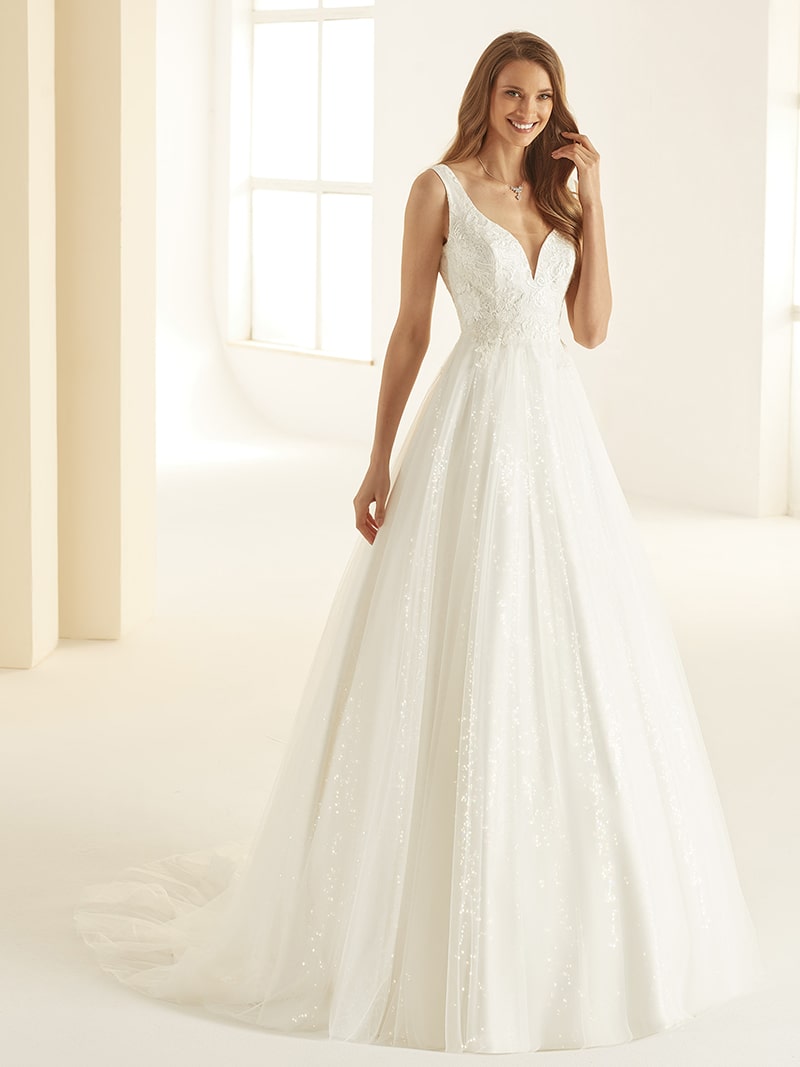 They are perfect for that enchanting first dance:
We have all watched those movies where the princess walks into the ballroom in a marvelous gown and everyone is instantly mesmerized by her beauty. Then when she sways to the beats of music with her partner, around the dance floor - time seems to stop, doesn't it? Well, that is how magical your wedding dance can be. If you are practicing faster numbers for your dance, then a dress with a shorter hemline can be perfect. But if you are already taking waltz lessons with your partner, ball wedding gown is the dress in which you should take the dance floor by storm. The fitted bodice, the swirling skirt and the overall classic silhouette creates a brand of drama on the dance floor that cannot be matched by any other dress.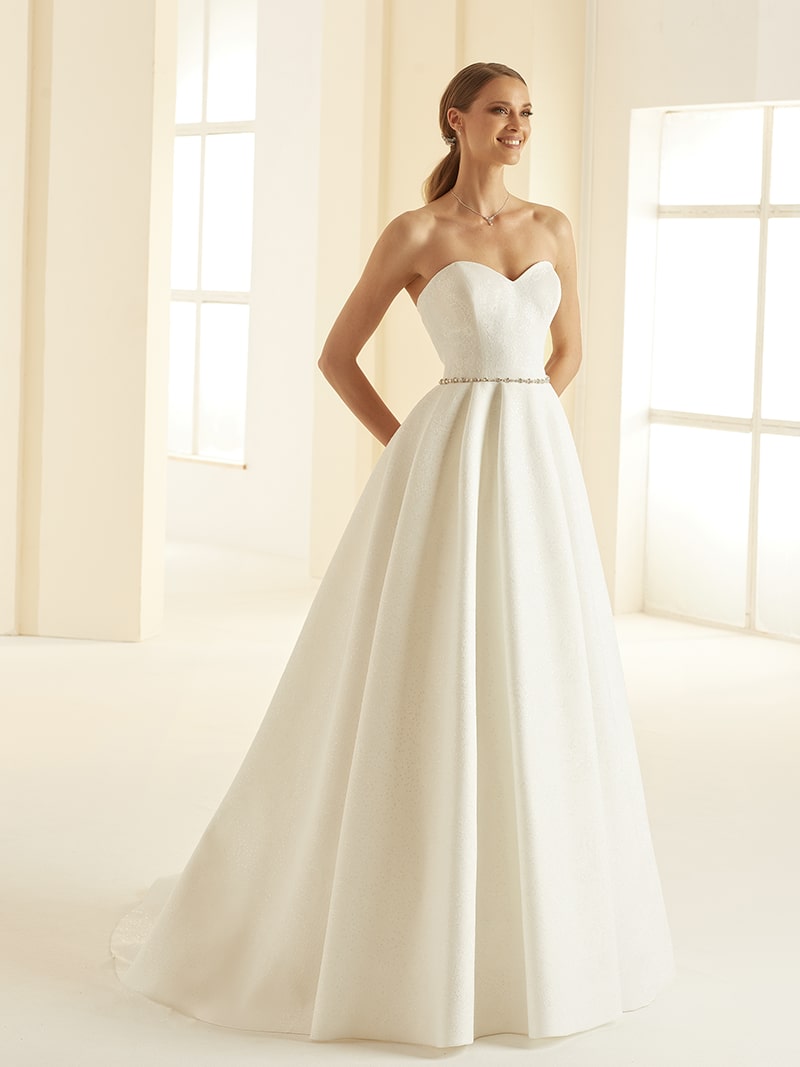 They extend more options for bridesmaids dresses:
As a thumb rule, bridesmaids wear slightly less formal silhouettes than the bride. Long gone are the days when brides and bridesmaids wore the same type of dresses only with slight differences in necklines or colours. Nowadays, often since bridesmaids request simpler gowns that they can wear again, brides don't want to invest in ball gowns, the primary reason being ball wedding gowns won't be as aesthetically pleasing when photographed with plain bridesmaid's dresses. What they do not consider is that the bride wearing a ball gown actually leaves a lot of other silhouettes like mermaid, sheath, empire and A-line for the bridesmaids. And if you want a fluffier silhouette for your girl-gang but one that doesn't overshadow your gown, why not go for a 1950-inspired dress. Trust us, the photographs will be charming.
It is quite likely that you will wear a dress this gorgeous only once on your wedding day. You might as well make it count. In our adult lives, it is not very often that we get to wear full skirts and feel like a princess. Whether it is an A-line dress that you truly want or it is an asymmetrical number that you would like to like to don, you should go for it. Likewise, if it is a stunningly, lavish or a minimalist ball wedding gown that you want, there is no reason to hold yourself back. Hey, it is your day. Celebrate it in the way you want.