Aug 18, 2020
5 Gorgeous Bridal Outfit Ideas for All You Winter Brides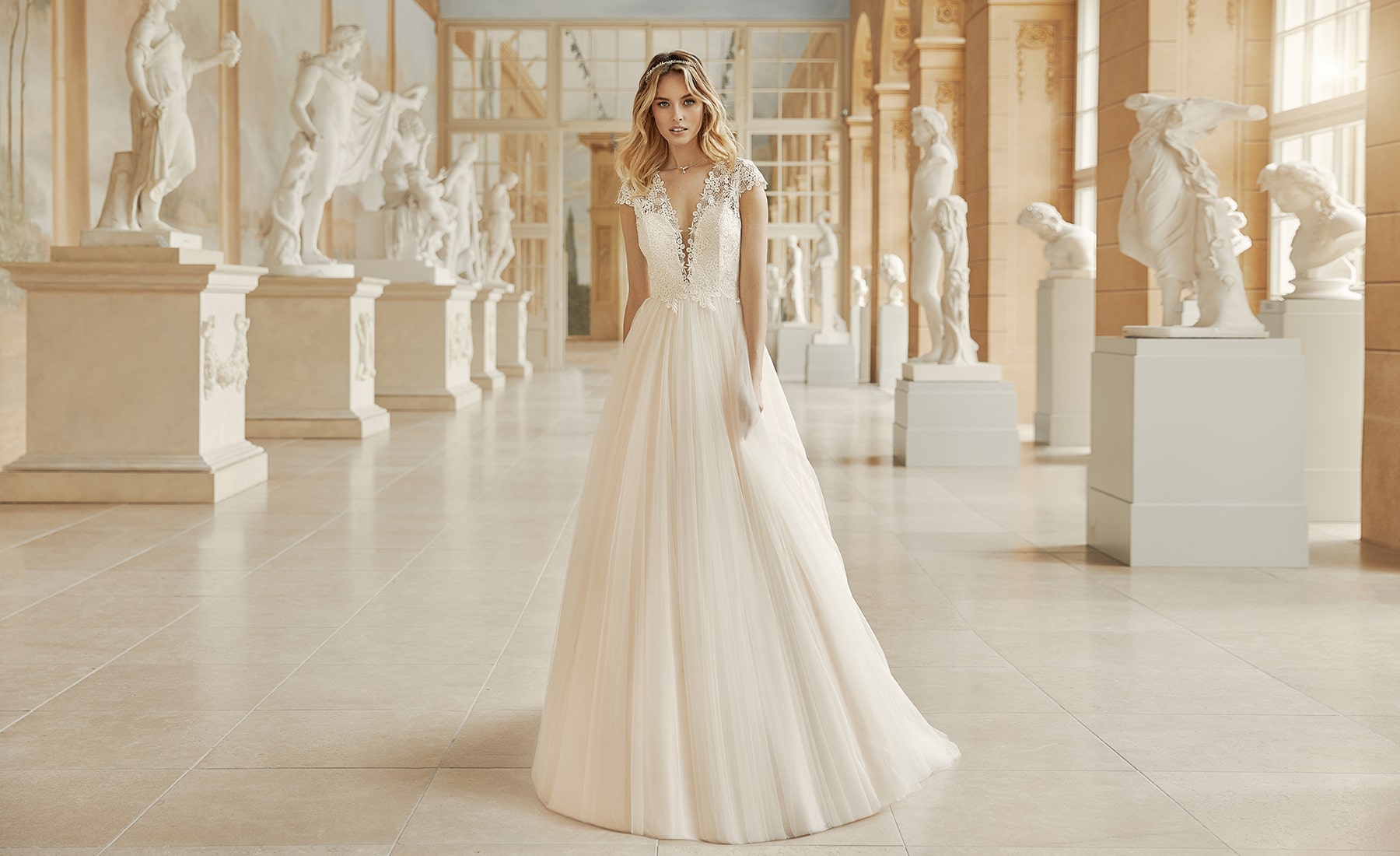 While Spring and Summer seem like most preferred choices for nuptials, many brides choose to say 'I do' in the golden months of Autumn, when the air starts to get crisp and the leaves turn magical fiery shades. Cynics might say that October to April is usually considered to be 'off-season' in the wedding world as cooler climates and unpredictable weather tend to become impediments for events. However, getting married during this time of the year has its own set of benefits, one of them being access to breathtaking bridal styles.
As the temperatures drop, the chances of you getting goosebumps increase but there is no need to sacrifice style for warmth. Bridal designers have proven time and again that you can look absolutely ravishing on your snowy wedding day if you know which dress to pick and how to accessorise it. If you are a winter bride to-be searching for a directional fashion-led look that would make quite a statement, don't worry; we have collated the most amazing recommendations from bridal fashion aficionados and women who themselves got married in winter to bring you the most striking looks. Whether you prefer flowing bridal gowns or are a fan of unconventional bridal outfits, we have got you covered. So, take a deep breath, sit back, relax and get prepared to be wowed by gorgeous numbers for winter nuptials.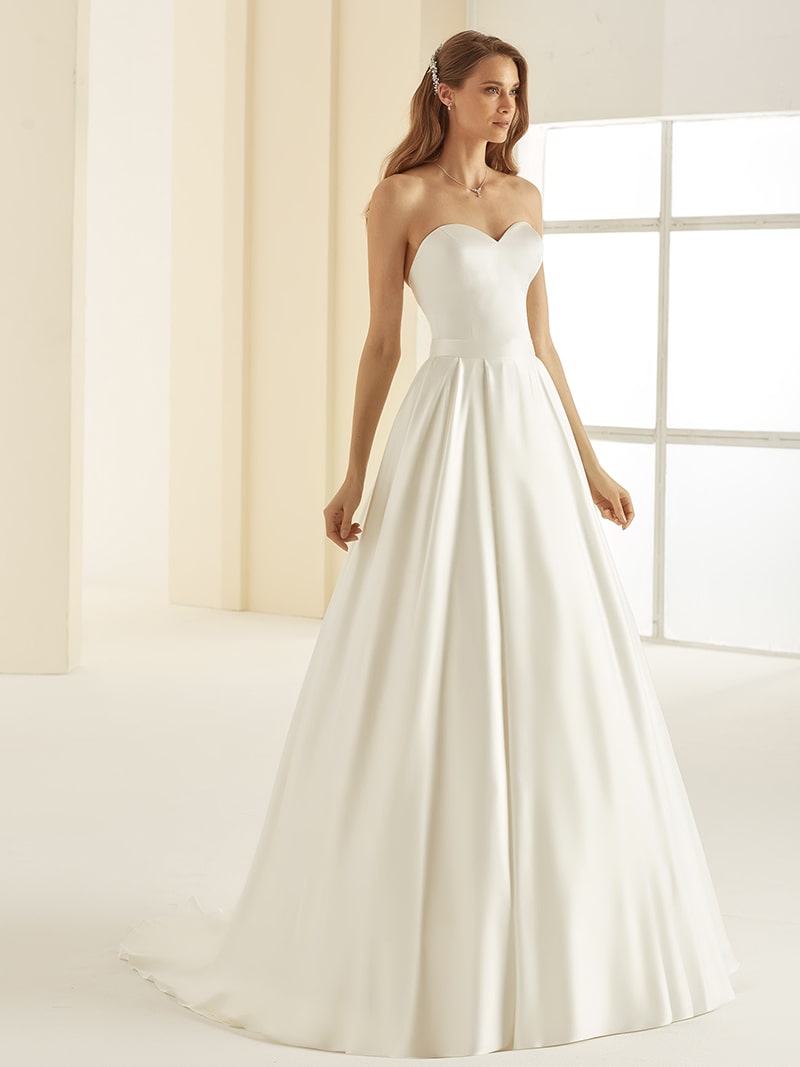 Bridal Separates:
Bridal separates are enjoying their time in the limelight, at the moment, and with good reasons. Big, swooshy skirts are being paired with crop tops, corsets (like E300 and E321), sweaters, jackets and even caftans and bridal style has never looked so casually appealing ever before. Adding layers is one of the most practical and probably the easiest way to ensure that your bridal outfit is weather-proofed. With detachable sleeves, overskirts and tops now easily available, you do not have to worry about getting multiple dresses for your wedding day. Just remove or add a layer, maybe swap the skirt for a pair of pants after the vow-exchange ceremony and you will have a whole new outfit for a crazy night of dancing. If you are looking for flowing skirts that would beautifully complement the corset that you have, you choose from Sardinia, Madagascar or Corsica.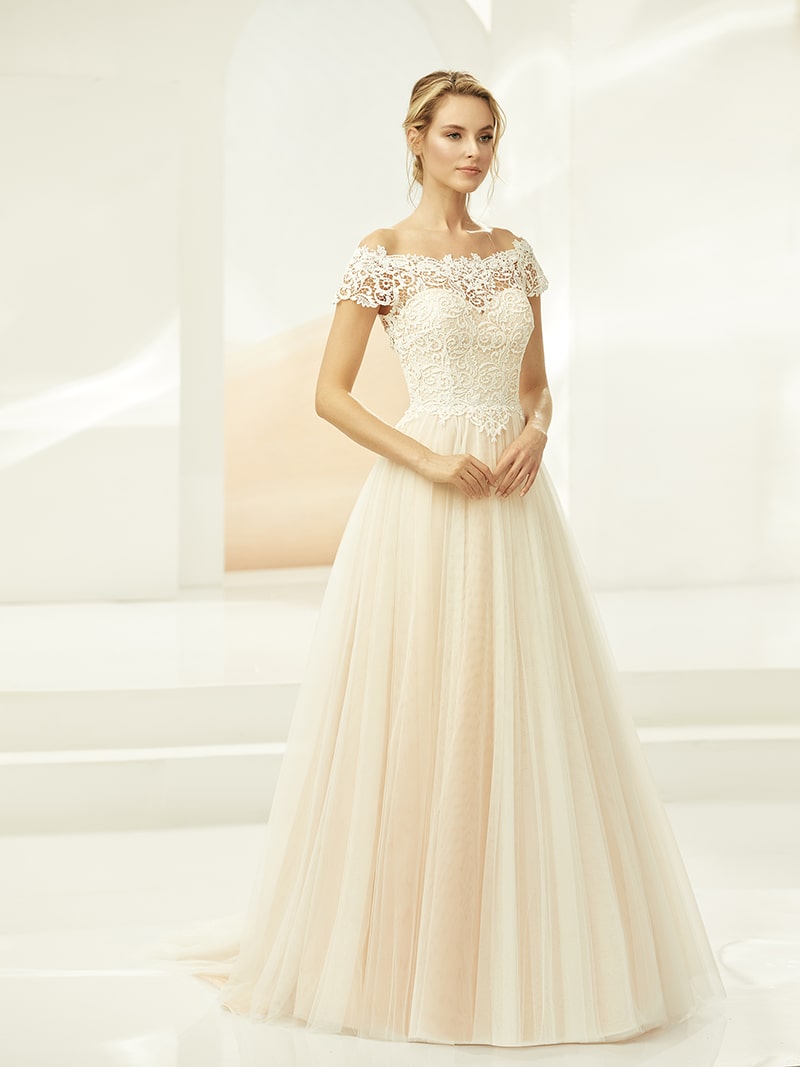 Ball Gowns:
Perhaps you have been looking for a grand "snow queen" dress since you decided to get married in winter. Bring it to life with a luxe ball gown like Esmeralda, Shannon, Serena or Isolde. Ball gowns, with their full skirts and layers, have always been a stylish yet practical solution for getting some much needed warmth during a cold winter day. The cinched waist is always form-flattering. None of these gowns have plunging necklines or backlines, which means you, can easily keep your shoulders warm with the right outerwear. Accessorise with a glittery tiara or sparkling but light jewelry, and you are guaranteed to earn compliments from even the most finicky of people.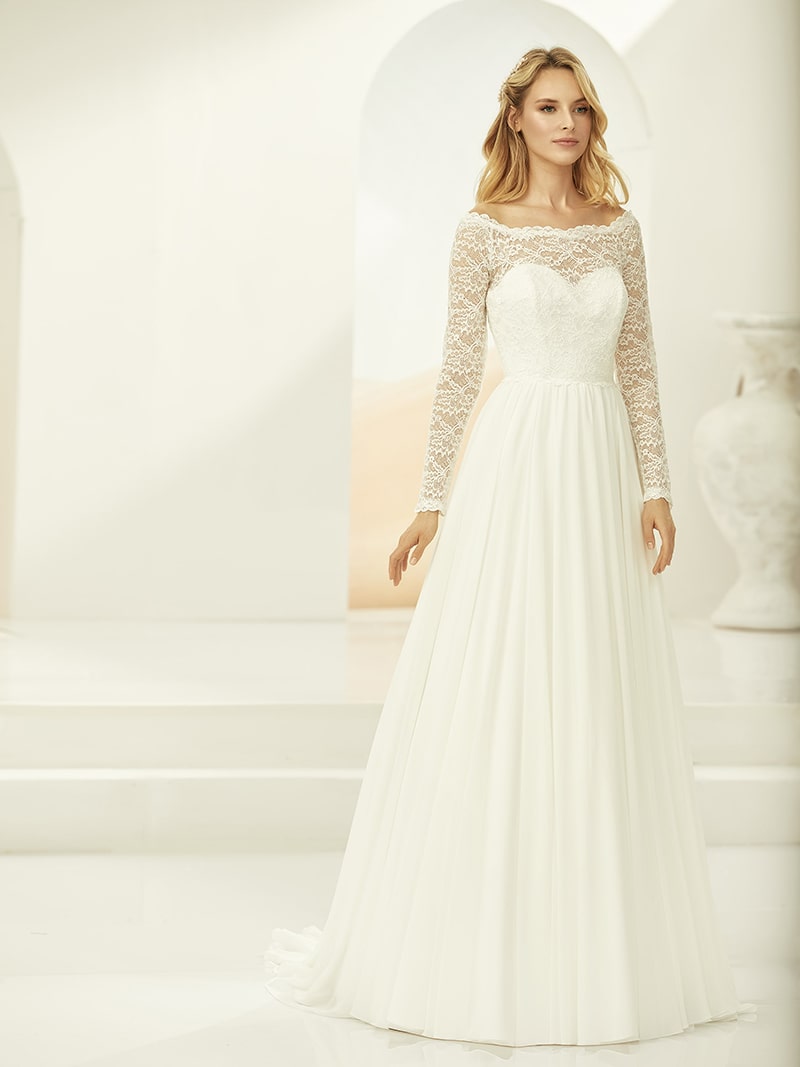 Sleeved Dresses:
Nothing helps to beat the chill better than some thoughtfully designed, long sleeved dresses. Not only will the sleeves keep you warm in cooler temperatures, it's a timeless design that somehow manages to look chic no matter which decade it is! Can you deny that Aurelia, Malta, Tiffany or Vanessa are eye-catching from the very get go? They are supremely classy designs that complement your natural elegance while keeping you warm and cosy on your big day.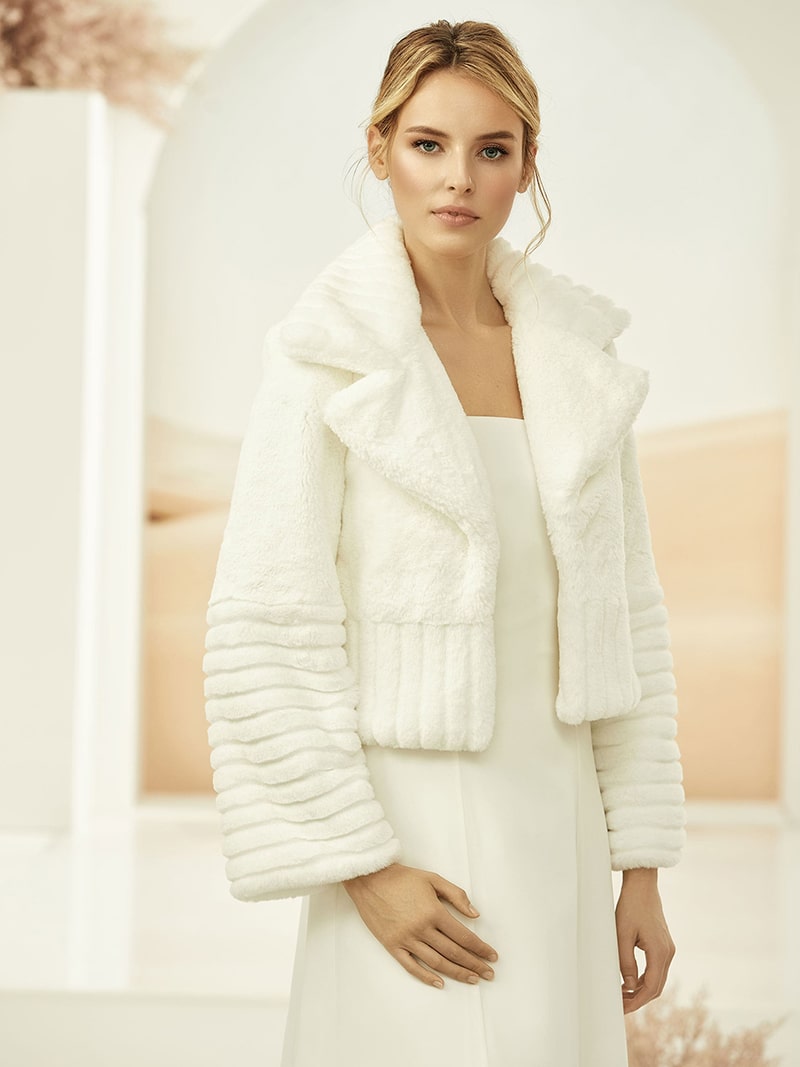 Capes, Jackets, Boleros and Sweaters:
Want to greet your groom like a superhero(in)? How about some capes then? Bridal capes have regained their popularity in recent years after having been used as a practical piece in the bygone centuries. And why not? Capes like E329, E306, E139 and E184 are fashionable enough to turn eyes, and practical enough to keep the cold at bay. However, if you are not a big fan of capes, how about some chic jackets to beat the chill? No one can say 'no' to these timeless designs with a modern twist? Just look at E284, E315, E314 or E313! If you would like an even more traditional outwear, go for some gorgeous lace boleros like - E333, E322 or E285. If you love easy-going, casual style, choose a bridal sweater, with cashmere effect, like - E326.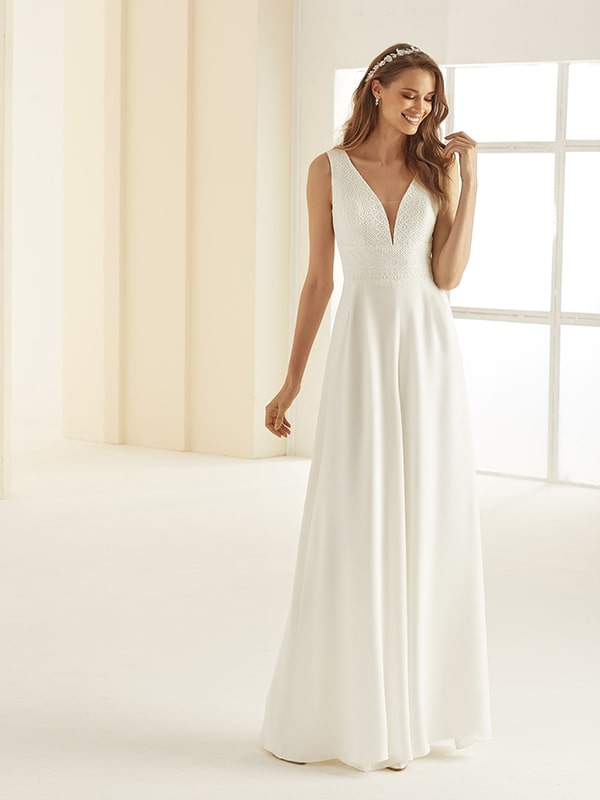 Jumpsuits:
Jumpsuits are not just unconventional, sassy and comfortable, they are quite practical choices for winter weddings as well. How about making a bold style statement on your big day with a solid take on this menswear-inspired outfit? Whether you decide to go with Celeste, Trinity or Samanta - style-wise you can never really go wrong with a bridal jumpsuit.
Shopping for your wedding look is supposed to be fun, irrespective of whether you are getting married in summer or winter. With that said, it is, however, true that the perfect winter wedding outfit needs to tick a lot of boxes. It needs to be chic but fashionable enough to reflect your personal style; it needs to maintain a sense of grandness and elegance while holding steady against the elements. That's a tall order. But our recommendations and tips will take care of you what-to-wear woes and you know, with a bit research and careful selection, you will look like the queen that you are, whether you choose flowing bridal gowns or jumpsuits.